PNW Trademarks and Licensing
The PNW Office of Marketing and Communications controls, protects, maintains and promotes the various names, marks, logos, symbols and phrases that represent Purdue Northwest. To support this work, we need the assistance of every unit in the university.
Be a Brand Champion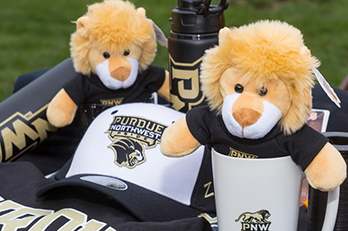 We ask that you help promote the proper use of university marks and licensed vendors to protect the Purdue Northwest name. All campus units must use a licensed vendor to produce any merchandise with the Purdue Northwest trademarks and/or logos.
This applies to items intended for your organization's own use (e.g., team shirts), or items to be sold for fundraising. By using approved licensed vendors, you know you'll get quality goods that will positively reflect the PNW name.
Please note that use of Purdue University Northwest's trademarks without license or permission is strictly prohibited.
To obtain a list of licensed vendors, contact the Office of Marketing and Communications.
How to Become a Licensed Vendor?
Purdue Northwest has a contract with a third-party licensing company, The Collegiate Licensing Company (CLC). CLC maintains all approved brands and licensed vendors. If you would like to sign up to become a licensed vendor, or if you have a preferred vendor for Purdue Northwest that you would like to request sign up as a licensee, direct them to clc.com.
Frequently Asked Questions
If you do not find your answer here, feel free to email marketing@pnw.edu with your specific question.
A trademark is a word, phrase, symbol, design, color, product configuration, group of letters, or a combination of words, phrases, symbols or designs adopted and used by a company that identifies and distinguishes the source of goods or services of one party from that of others.
A trademark license is a written legal agreement between the owner of the trademark (licensor) and a manufacturer/vendor (licensee). This license grants permission to the licensee to affix the licensor's trademark(s) on a product(s). This license must be in place before use of the marks.
A licensing program exists to protect the name and marks of the university and to enhance the image of the university through the signing of Iicensing agreements authorizing the use of the marks on high quality and tasteful merchandise. It is also the responsibility of the office to ensure that the university receives the appropriate commercial value for the use of its trademarks.
Anyone or any business/organization wishing to use the university's trademarks or verbiage on any product must have a license before offering the product/goods for sale. This also includes sale to university departments, campus organizations and student recognized organizations. Premiums, promotions and advertising are included as well.
The trademarks of the university may not be used on internal publications, brochures, advertising or miscellaneous print material without permission from the university.
Please contact the PNW Office of Marketing and Communications for more information (marketing@pnw.edu).
Weapons/firearms, tobacco products, alcoholic beverages, sexually oriented products or designs, legally controlled substances, religious affiliated products or designs, patches, heat transfers and appliques are not appropriate items for licensing. Other products will be considered; however, the university has the right to decline any item.
Yes, in order for the university to maintain and protect its value, permission must be obtained from PNW's Office of Marketing and Communications, and a licensed vendor must be used.