Alyssa Maples, Ph.D.
Assistant Professor, Couple and Family Therapy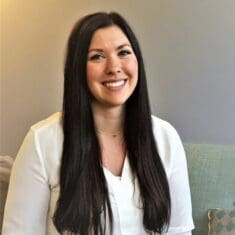 Introduction
Alyssa Maples is an Assistant Professor in the Couples and Family Therapy Program. She teaches in the program and conducts research. 
Research Overview
Alyssa's research on college students, flourishing, mental health challenges, engagement and community is informed by positive psychology and systems theory. Flourishing is a psychological wellness concept encompassing relationships, self-esteem, purpose and positive ideas around the future. Given her background as an academic adviser and instructor, she come to research with experience and understanding of how certain parts of a predominantly white institution function and tend to be oppressive for populations that are historically under-represented on campuses (e.g., students of color, first-generation college students, and students with disabilities). These realizations and experiences led her to make changes through research and to strongly encourage colleges to be more inclusive and to provide opportunities for safety, community, mental health, and flourishing.
Select Publications
Grier-Reed, T., Maples, A., Houseworth, J., & Ajayi, A. (January, 2022). Posttraumatic growth and flourishing in the face of racial trauma. Psychological Trauma: Theory, Research, Practice, and Policy.
Maples, A., Williams-Wengerd, A. Broughton, J., Weiler, L., Henry, K., & Haddock, S. (December, 2020). The role of service-learning experiences in promoting flourishing among first-generation college students. Journal of Positive Psychology, 1-12, https://doi:10.1080/17439760.2020.1858333
Grier-Reed, T. Maples, A., Williams-Wengerd, A. & McGee, D. (Fall, 2020). Racialized labor and racial battle fatigue in the African American student network. Journal Committed to Social Change on Race and Ethnicity (JCSCORE), 6(2), 94-135. https://doi.org/10.15763/issn.2642-2387.2020.6.2.95-135
Teaching Focus
Alyssa's teaching philosophy is closely aligned with components that lead to flourishing. Students feel purpose in the classroom, that they add value to the classroom and are respected. She focuses on creating experiences that allow students to engage with the course content in various ways assists different styles of learning and different personalities. Alyssa is intentional about weaving social justice and representing diversity in her teaching and content.