Cezara O. Crisan, Ph.D.
Assistant Professor of Sociology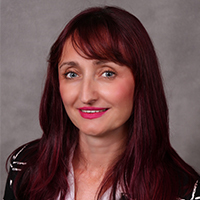 Introduction
Cezara Crisan is currently assistant professor of sociology in the department of Behavioral Sciences. Her areas of expertise include immigration studies, the sociology of religion and gender.
Research Overview
General research interests revolve around the overarching topic of immigration. At the micro level Crisan is interested in the way immigrants, contingent upon the time and place of their migration, develop their sense of identity and how that intertwines with ideas about ethnicity. At the macro level, she works to develop models that illustrate the applicability of the transnational perspective.
Select Publications
Crisan, Cezara. ,"The Legitimation Crisis of the Orthodox Church in the United States: From Assimilation to Incorporation".
Lexington Books. 2019. Crisan, Cezara. "The Transnational Experience of Eastern European Women and Feminist Practices after 1989." (Vol. Feminism and Migration: Cross-Cultural Engagements). (G. Bonifacio Ed.)Springer 2012