Christina Maldonado
Parent, Community, and Early Education Liaison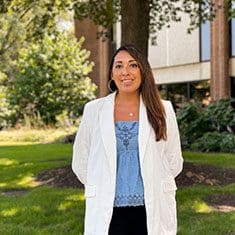 What's your educational background?
I earned a bachelor's degree in Political Science and a master's degree in Secondary Education from Indiana University Northwest.
Professional interests?
I have always had a passion for working with students, families, and the community in the context of education. I love providing support and resources to help students reach personal and academic success. Additionally, I enjoy promoting diversity and assisting with the planning and implementation of cultural events on campus.
What would people be surprised to know about you?
I grew up in Gary, Indiana, and I am a big fan of Michael Jackson (and Janet). One of the highlights of my life was meeting Michael Jackson at the Gary Railcats Stadium!
What do you love about PNW?
Upon my arrival at PNW, I immediately felt welcomed by all faculty, staff, and students. Everyone is so friendly and helpful. It is obvious that PNW employees love to work here, and I can definitely see why. I love it too! This positive atmosphere is also felt by the students here, as PNW makes it a priority to provide all students with the resources they need to find academic success. PNW also makes a strong effort to promote diversity and inclusion on campus, which translates into a genuine feeling of acceptance and belonging by all students.
Best college search tip:
Finding the right college involves so many different factors. Talk to your guidance counselor, do your research, understand the cost, visit the campus, and make a list of your top choices. Don't feel pressured by the college choices your friends are making. Ultimately, the college you choose should be the right fit for YOU.
Here to help with:
building relationships between PNW and the surrounding community
connecting local students and their families to the PNW campus and promoting higher education
enrolling middle school students in the 21st Century Scholar Program
establishing strong partnerships between PNW and region school districts
Let's Talk!
Christina Maldonado
Parent, Community, and Early Education Liaison
Lawshe Hall, 226 E
(219) 989-2708
maldon55@pnw.edu