Christopher K. Belous, Ph.D.
Director, Couple & Family Therapy
Associate Professor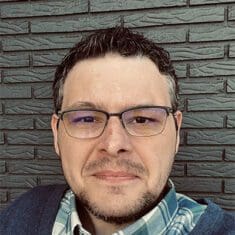 Introduction
As a Clinical Director and Interim Program Director for the Couple and Family Therapy Program, Christopher directs the Couple and Family Therapy Center, internship placement, teaches classes and conducts research.
Christopher also serves as the secretary of the Center for Justice and Post-Exoneration Assistance at Purdue Northwest advisory board.
Research Overview
Belous has ongoing research projects in sex and sexuality, assessment and evaluation, education and supervision process, efficacy and outcome studies and clinical management. He is currently involved with several studies in his interest areas – including qualitative, quantitative and mixed methodologies; some of his current projects are collaborative with student authors and colleagues at other institutions.
I honestly love Microsoft Excel and paperwork. It's weird, I know - but I live for it!
Select Publications
Belous, C. K., Wampler, R. S., & Ledford, B. L. (Accepted). Testing the Gay and Lesbian Relationship Satisfaction Scale with item response modeling. Journal of Couple & Relationship Therapy.
Lampis, J., De Simone, S., & Belous, C. K. (Accepted). Italian validation of the Gay and Lesbian Relationship Satisfaction Scale (GLRSS-It). Journal of GLBT Family Studies.
Belous, C. K., Langbartels, L., & Weldon, A. (2019, Online First). Teaching sex therapy as a method of transformative learning: A mixed methods analysis of efficacy. Sexual & Relationship Therapy. doi: 10.1080/14681994.2019.1676408
Teaching Focus
Belous believes that students should learn with a professor through the facilitation of critical thinking, analytical process and the creation of abstract and concrete knowledge. The obligation of every student is to develop their own personal skills, while it is the responsibility of the professor to help them succeed.