Colin Elkin, Ph.D.
Assistant Professor of Electrical Engineering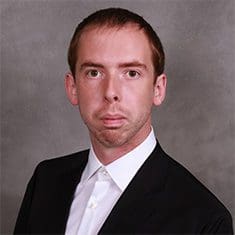 Introduction
Colin Elkin is an assistant professor in the department of electrical and computer engineering. He teaches a variety of programming and engineering design courses at the Westville campus.
Research Overview
Elkin's research primarily stems from the areas of machine learning and artificial intelligence across a wide variety of applications. These include: human factors, autonomous vehicles, wireless sensor networks and industrial process automation. He has funded his research through the Air Force Research Laboratory, Ohio Federal Research Network, National Science Foundation and industry.
Throughout my life, my three biggest strengths and interests have been in mathematics, technology and solving problems. Engineering is a seamless integration of the three areas and was therefore a natural fit for me.
Select Publications
C. Elkin and V. Devabhaktuni, "Comparative Analysis of Machine Learning Techniques in Assessing Cognitive Workload", 10th International Conference on Applied Human Factors and Ergonomics (AHFE 2019), Washington, DC, July 201.
S. Nittala, C. Elkin, J. Kiker, R. Meyer, J. Curro, K. Xu, V. Devabhaktuni, and A. Reiter, "Pilot Skill Level and Workload Prediction for Sliding-Scale Autonomy," Proc. 17th IEEE Int. Conf. Machine Learning Applications (ICMLA), Orlando, FL, Dec. 201.
C. Elkin, R. Kumarasiri, D. Rawat, and V. Devabhaktuni, "Localization in wireless sensor networks: A Dempster-Shafer evidence theoretical approach", In Ad Hoc Networks, Vol. 54, 2016.
Teaching Focus
As one of only three Westville faculty in the ECE department, Elkin's teaching experience has spanned a wide variety of subject areas. His core teaching focus is in programming for the C, C++, MATLAB, assembly and VDHL languages. He has also taught courses in circuit analysis, communication systems and probabilistic methods as well as engineering design at the freshman and senior levels.
Previous Roles
Visiting Assistant Professor, Purdue University Northwest (Dec. 2018 – Aug. 2019)
Visiting Instructor, Purdue University Northwest (Aug. 2018 – Dec. 2018)