Dawit Gizachew, Ph.D.
Associate Professor of Chemistry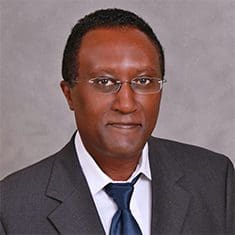 Introduction
Dawit Gizachew is an Associate Professor of chemistry. He teaches analytical and bioanalytical chemistry courses. His research is in food safety including analysis of mycotoxin and metabolites.
Research Overview
Gizachew's research is in the area of food safety. He uses analytical instruments to detect and quantify mycotoxins and metabolites.
Select Publications
Dawit Gizachew, Chih-Hsuan Chang, Barbara Szonyi, Sandra De La Torre, Wei-tsyi Evert Ting. (2019). Aflatoxin B1 (AFB1) production by Aspergillus flavus and Aspergillus parasiticus on ground Nyjer seeds: The effect of water activity and temperature. Intl. J. Food Microbiol, 296, 8-13.
Dawit Gizachew, Yung-Chen Hsu, Barbara Szonyi, Wei-tsyi Evert Ting. (2019). Effect of water activity, temperature, and incubation period on fungal growth and ochratoxin A production on Nyjer seeds. Mycotoxin Res 35: 1-8.
Teaching Focus
Gizachew's research using various analytical instruments and analytical methods allowed him to teach Analytical Chemistry I, Analytical Chemistry II (Instrumental Analysis) and Bioanalytical Chemistry course in a way that the courses can be related to cutting edge scientific researches and applications. He has great interest in teaching General Chemistry (Chm 115 and Chm 116).