Godwin-Charles Ogbeide, Ph.D.
Professor, Hospitality and Tourism Management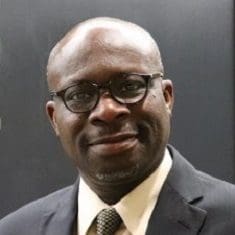 Introduction
Godwin-Charles Ogbeide is a professor of hospitality and tourism management in the College of Business at Purdue University Northwest.
Research Overview
Ogbeide's research interest focuses on leadership development, hospitality intelligence, complaint management, destination marketing, strategic planning and evaluation, as well as the impact of hospitality intelligence on stakeholders' satisfaction and wellbeing. He is great in mentoring new researchers, creating and supporting research ideas and a great multidisciplinary collaborator and project evaluator.
I love to run long distances and play board and word games. I'm also a scientist for the Center for Health Innovation and Implementation Science. As the pioneer of the hospitality intelligence concept, I am incorporating hospitality into healthcare.
Select Publications
Scott, S., Ogbeide, G-C., & Fenich, G. (2019). Millennial Subgroups' Attendance and Participation in Events. Event Management. Ogbeide, G-C (2019).
MPI World Education Congress (WEC) 2019: Stop Planning Meetings. Start Designing Shared Experiences. Journal of Convention and Event Tourism, 20(5) 424-427. Ogbeide, G-C (2019).
Hospitality Intelligence: Evolution, Definition and Dimensions. Events and Tourism Review, 2(1), 1-20. Ogbeide, G-C (2018)
Teaching Focus
Ogbeide's teaching interests include hospitality and tourism management and operations, food systems, hotel operations management, the economics of tourism and events, meetings, events and convention management, revenue management and financial analysis, data analysis and interpretation.