Reynaldo (Rey) D. Barreto, Ph.D.
Associate Professor of Chemistry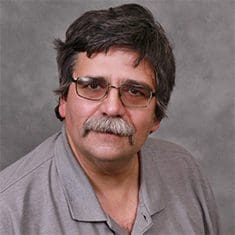 Introduction
Rey is an Associate Professor of chemistry at PNW. He teaches general, analytical and environmental chemistry and has active research in environmental chemistry both at PNW and at Purdue West Lafayette.
Research Overview
Photocatalysis of water soluble organic solvents and compounds
Photocatalysis of pharmaceuticals in water
Development of a continuous flow photo reactor to destroy water pollutants
Study of TiO2 photocatalytic pathways and mechanisms
Studying the use of common plants as feed stock for biofuels production
General study into the mechanisms of climate change
Select Publications
Primary Technical Editor "Inorganic Chemistry for Dummies"
Wiley Publishing, 2013 Edited "Principles of Environmental Chemistry: 3rd Ed"
Jones & Bartlett Publishing Edited "Quantitative Chemical Analysis: 9th Ed"
W.H. Freeman & Co US Patents 67160-02 – "Continuous-Flow Photo-Reactor for the Photocatalytic Destruction of Water Soluble Ethers in Water Using TiO2"
Teaching Focus
While I teach all general chemistry courses, I particularly enjoy teaching environmental chemistry as these will be the deciding issues of the 21st Century.