Hassan Hayajneh, Ph.D.
Assistant Professor, Mechatronics Engineering Technology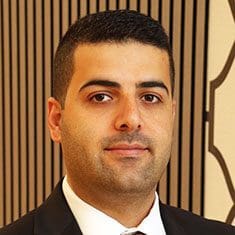 Introduction
Dr. Hayajneh is a renewable energy advocate, Certified Energy Manager (CEM®), accredited LEED Green Associate, mechatronics, controls and systems engineer, researcher, and lecturer with many years of mixed academic and industry experience.
Research Overview
Dr. Hayajneh's research covers a mix of systems and energy topics to create futuristic frameworks that make the infrastructure ready in welcoming the revolutionary implementation of renewable energy sources and electrification of the transportation sector through promoting the mobile type of energy storage systems.
Select Publications
M. Alrbai, M. Robinson, N. Clark, and H. S. Hayajneh, "Numerical investigation of combustion characteristics of a single-cylinder linear engine fueled by natural gas under the influence of exhaust gas recirculation," Int. J. Ambient Energy, vol. 0, no. 0, pp. 1–10, Mar. 2022, doi: 10.1080/01430750.2022.2056919.
M. Alrbai, J. Enizat, H. S. Hayajneh, B. Qawasmeh, and S. Al-Dahidi, "Energy and exergy analysis of a novel humidification-dehumidification desalination system with fogging technique," Desalination, vol. 522, p. 115421, Jan. 2022, doi: 10.1016/j.desal.2021.115421.
H. S. Hayajneh, M. L. Herrera, and X. Zhang, "Design of combined stationary and mobile battery energy storage systems," PLOS ONE, vol. 16, no. 12, p. e0260547, Dec. 2021, doi: 10.1371/journal.pone.0260547.
M. Alrbai, H. S. Hayajneh, A. Omar, M. A. Alkader, and H. Al-Riaty, "Experimental investigation of lab scale solar powered Electrodialysis system with corrugated membrane configuration," Sol. Energy, vol. 224, pp. 390–400, Aug. 2021, doi: 10.1016/j.solener.2021.06.028.
H. S. Hayajneh, M. Lainfiesta, and X. Zhang, "Three Birds One Stone: A Solution to Maximize Renewable Generation, Incentivize Battery Deployment, and Promote Green Transportation," in 2020 IEEE Power Energy Society Innovative Smart Grid Technologies Conference (ISGT), Feb. 2020, pp. 1–5. doi: 10.1109/ISGT45199.2020.9087710.
H. S. Hayajneh and X. Zhang, "Logistics Design for Mobile Battery Energy Storage Systems," Energies, vol. 13, no. 5, Art. no. 5, Jan. 2020, doi: 10.3390/en13051157.
S. Hayajneh and X. Zhang, "Evaluation of Electric Vehicle Charging Station Network Planning via a Co-Evolution Approach," Energies, vol. 13, no. 1, Art. no. 1, Jan. 2020, doi: 10.3390/en13010025.
Teaching Focus
Programmable Logic Controller (PLC)
Control Systems
Strength of Materials
Previous Roles
Dr. Hayajneh's previous role as a Postdoctoral Researcher at Texas A&M University-Kingsville (2020 – 2022) involved mainly the development of systems to solve clean energy implementation problems, and emerging new concepts of energy storage system projects.