Heather Fielding, Ph.D.
Associate Professor of English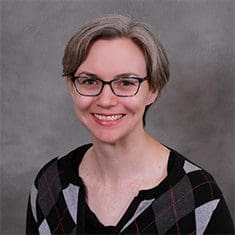 Introduction
Heather Fielding is an associate professor of english at Purdue University Northwest. Her research focuses on modern and contemporary fiction.
Research Overview
Much of Fielding's research considers how writers in the first half of the twentieth century thought about reading: why we read, what it does to us and what our reading does to books. She is also interested in immigrant fiction and is currently working on a project about race, gender and the figure of Eastern Europe in contemporary fiction.
Publications
Novel Theory and Technology in Modernist Britain (Cambridge University Press, 2018) "On Not Wanting More: Feminist Drift in Zeyneb Hanoum's A Turkish Woman's European Impressions." Feminist Modernist Studies 2.2 (June 2019): 164-179. DOI: 10.1080/24692921.2019.1619341
" 'Any place, any time': The Myth of Universal Access and the Semiprivate Space of Online Education." Computers and Composition 40 (June 2016): 103-114. DOI: 10.1016/j.compcom.2016.03.002
Teaching Focus
Fielding teaches courses about literature, culture and writing. Her classes are learner-driven and designed to cultivate intellectual curiosity. Students share their thoughts and insights in a supportive environment, do deep dives into topics that interest them and help to determine course texts and assignments.