Ildar (Dale) Akhmadullin, Ph.D.
Assistant Professor Mechanical Engineering Technology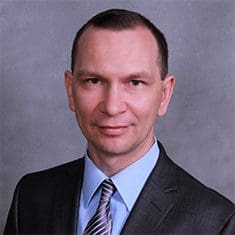 Introduction
Dale Akhmadullin is an Assistant Professor of College of Technology. His research and teaching focus on heat transfer and energy conversion in automotive and industrial applications.
Research Overview
Dale's research focuses in green energy production. For example, solar power harvesting and development, waste energy production from industrial applications and storage of energy in the forms of phase change materials. He has interest in developing hybrid and electric vehicles and solving problems associated with traffic congestion.
Select Publications
Ildar F. Akhmadullin, Mayank Tyagi, 2014, "Design and Analysis of Electric Power Production Unit for Low Enthalpy Geothermal Reservoir Applications", WASET International Science Index Vol:8, No:6, 2014 waset.org/Publication/9998570
Ildar F. Akhmadullin, Mayank Tyagi, 2017, Numerical analysis of downhole heat exchanger designed for geothermal energy production, Geothermal Energy 5 (1), 13.
Ildar Akhmadulin, Geothermal Wellbore Energy Conversion System Design and Analysis, LAMBERT Academic Publishing (October 26, 2016) ISBN-13: 978-3659975462
Teaching Focus
I am not teaching the course – I am teaching students! Having fourteen years of industry experience on board, I clearly understand what the industry expects from new graduates and what challenges will face new specialists in their first month of work. Thus, my teaching focus is that students will develop necessary skills in my courses that will help them become successful in their industrial career.
Previous Roles
Assistant Professor, Baton Rouge Community College
Chief Technology Officer, Eden GeoPower Inc.
Engineering Department Head, Trial Auto
Engineer, Kamaz ltd. Scientific and Technical Center (R&D)