Janet H. Davis, Ph.D, RN, CNE, MBA
Associate Professor College of Nursing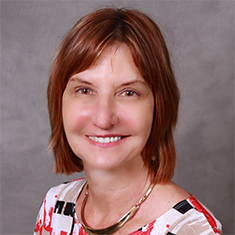 Introduction
Janet Davis's role is teaching at the undergraduate level and the graduate level in the College of Nursing. Her key responsibilities include developing service learning opportunities.
Research Overview
Davis's research is related to evidence-based practice for minority RN workforce development and health disparities. An additional aspect of her current work is examining the evidence on DNP pipelines for underrepresented students. She particularly enjoys working with students on their research interests and has co-authored and jointly presented research with students. She's also a McNair Scholars mentor.
I have traveled to more than 30 countries.
Select Publications
Davis, J.H., Bustos, B., & Spoljoric, D. (2019). Culturally congruent EBP in an international outreach course for prelicensure nursing students. Nursing Education Perspectives, 40(5), 309-311
Davis, J.H., & Spoljoric, D. (2019). Comfort: context for the faculty role in study abroad. Nursing Science Quarterly, 32(4), 314-319.
Davis, J.H., & Eastland, T. (2018). Electronic PICO posters engage students in nursing management. Worldviews on Evidence-based Nursing, 15 (5), 409-410.
Teaching Focus
Throughout my career it has been a privilege to serve in roles that supported nursing students in attaining their career objectives. My philosophy of teaching is strongly linked to my philosophy of nursing as a caring profession, built on the discipline's foundation supported by the sciences and the humanities. My teaching methods focus on synthesis of knowledge over a student's career trajectory.
Previous Roles
Prior to joining the faculty at PNW, Davis held faculty, dean and director roles at nursing programs in the Chicagoland area. Additionally, she has experience in healthcare financial management compliance and ran her own consulting business.