Jean Jiang, Ph.D.
Associate Professor, Electrical and Computer Engineering Technology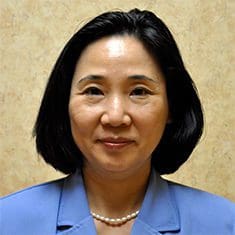 Introduction
Jean Jiang is an associate professor of electrical and computer engineering technology. Her research and teaching focus on signal processing, robotics, machine learning, control and communications.
Research Overview
Jiang's research areas are in analog and digital signal processing, adaptive signal processing, robotics and control systems, active noise control, machine learning and communication systems. She has over eighty (80) publications including refereed journal papers, refereed conference papers, research book chapters and four (4) textbooks adopted by numerous universities worldwide.
Select Publications
J. Jiang, V. Vijayarajan, L. Tan, "Channel sparsity aware function expansion filters using the RLS algorithm for nonlinear acoustic echo cancellation," IEEE Access, vol. 8, pp. 118305-118314, July 2020.
X. Peng, J. Jiang, L. Tan, J. Hou, "2-D bi-level block coding for color image compression and transmission with bit-error awareness," IEEE Access, vol. 8, pp. 110093-110102, June 2020.
Lizhe Tan, Jean Jiang, Digital Signal Processing: Fundamentals and Applications. Third Edition, Elsevier Publishing/Academic Press, 2018. ISBN 978-0-12-815071-9.
X. Guo, Y. Li, J. Jiang, C. Dong, S. Du, L. Tan, "Sparse modeling of nonlinear secondary path for nonlinear active noise control," IEEE Transactions on Instrumentation and Measurement, vol. 67, No. 3, pp. 482-496, March 2018.
Teaching Focus
Analog and Digital Signal Processing
Feedback Control Systems
Adaptive Signal Processing
Process Control Communication Systems
Modeling and Analysis of Dynamic Systems
Electronics Circuits
Electrical Circuits I & II
Digital Circuits I & II
Previous Roles
Associate Professor, DeVry University
Professor Interactive College of Technology, Chair and Instructor