Justin Ness, Ph.D.
Continuing Lecturer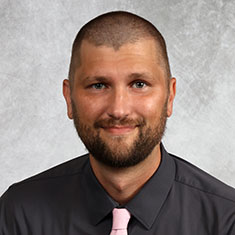 Introduction
Justin Ness is a lecturer in the Department of English and World Languages. His research foci are on how novels and films structurally create, maintain and terminate interest in their readers/audiences as well as the evolution(s) of narrative form.
Research Overview
Ness's current research addresses the narratological function of the "jump scare" in horror films as well as the historical nexus at which the term "horror" became a signifier for literature thematically similar but culturally inferior to "gothic."
I have observed that many people, even scary-movie enthusiasts, have a particularly strong aversion to one horror sub-genre or another. For me, it's "possessed doll" films: as soon as I see Chucky's feet scampering across the carpet, my own feet are hurrying toward a different room!
Teaching Focus
Ness teaches courses on English composition, narrative theory and the evolution of the horror film.