Kathleen A. Tobin, Ph.D.
Professor of History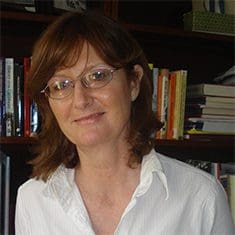 Introduction
Kathleen Tobin is a Professor of History and former Chair of the Department of History, Philosophy, Politics, and Economics. She has also directed the International Affairs Office and served on the Indiana Commission for Higher Education.
I see the field of history as the study of action, the overcoming of adversity, and the attempt to improve the human condition. I encourage students to embrace learning about their nation's past and to become engaged in the world around them.
Select Publications
Tobin, Kathleen A., "Early Film and Child Welfare Issues: Charlie Chaplin's The Kid,"
Representing the Other Half: Essays on Poverty in American Popular Culture, Wylie Lenz, ed. (Jefferson, North Carolina: McFarland, 2020), pp. 58-69.
Tobin, Kathleen A., "Manning the Enemy: U.S. Perspectives on International Birth Rates
During the Cold War," Sex Gender and the Cold War, Philip Muehlenbeck, ed. (Nashville, Tennessee: Vanderbilt University Press, 2017), pp. 88-109.
Tobin, Kathleen A., "People Not Property: Population Issues and the Neutron Bomb,"
Cold War History 16:3(August 2016), pp. 307-325.
Tobin, Kathleen A., "Feeding a Population: Agricultural Education Priorities in Haitian
History," Journal of the Indiana Academy of the Social Sciences 18(2015), pp. 103-124.