Kenneth (Chris) Holford, Ph.D.
Provost and Vice Chancellor for Academic Affairs
Professor of Biology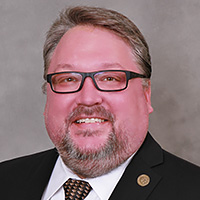 Introduction
As PNW's chief academic officer, Kenneth (Chris) Holford oversees PNW's six colleges and the academic programs they offer.
Research Overview
Dr. Holford's research examines the role that chemical pollutants have in disrupting normal endocrine function in freshwater invertebrates.
Teaching Focus
Dr. Holford enjoys using a combination of lecture and problem-based learning to provide students of all learning styles with opportunities to successful. His goal is the help students translate the information in class into employment or advanced training opportunities.