Kuan-Chou Chen, Ph.D.
Thomas M. McDermott Sr. Professor in Economic Development
Professor of Management Information Systems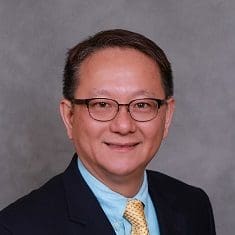 Introduction
Kuan-Chou Chen is a professor of management information systems. He dedicated himself to higher education and has focused on student success with creating real-world learning environment, adding new undergraduate and graduate concentration programs. Chen has fifteen years of progressive administrative responsibilities including associate dean, school director and department head in the College of Business.
Research Overview
Chen has specialized in computer programming, system simulation, project management, business intelligence, data mining, system analysis and design, e-business strategy and application, supply chain management, network design and security, knowledge management and information economy.
Chen has more than 90 scholarly publications, most in peer-reviewed journals. He is an active participant in several professional journals and serves on three paper reviewer boards. Currently he is an Editor-in-Chief of International Journal of e-Education, e-Business, e-Management and e-Learning. His productivity and scholarship have been recognized by his colleagues, being nominated three years in a row for an "Outstanding Scholar Award."
Chen has initiated experiential and service-learning opportunities with community partners and PNW. He won experiential learning course development grants four times to create service-learning courses connecting the real-world and academia. He was awarded seven external grants from Indiana Campus Compact to service a learning project. He has also mentored over 150 undergraduate research projects.
Select Publications
Ruan, W. & Chen, K.-C (2017). A Study of Hamilton-Jacobi-Bellman Equation Systems Arising in Differential Game Models of Changing Society, International Journal of Mathematical and Computational Sciences, 11(7), 315-328.
Chen, K.-C. &. Chuang, K. -W. (2016) "Building a Cooperative Learning Environment in Flipped Classroom" Academy of Educational Leadership Journal. 20 (2), 8-15.
Chuang, K. -W., Mo, S., Chen, K., & Ye, C. (2016), "The Evolving Role of Peer-To-Peer Lending: New Financing Alternative." Journal of the International Academy for Case Studies. 22(3), 32-38
Teaching Focus
Business Intelligence
Project Management
Supply Chain Management
Data Mining
Systems Dynamics Simulation
Management Information Systems
Previous Roles
Associate Dean for Graduate Studies
Associate Dean for Faculty and Student Research
Interim Director, White Lodging School of Hospitality and Tourism Management
Head, Department of Information Systems, Finance, Business Analytics
Interim Head, Department of Graduate Education
Interim Head, Department of Accounting