Lash Mapa, Ph.D.
Professor, Mechanical Engineering Technology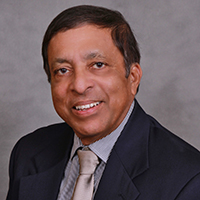 Introduction
Lash Mapa is a professor in mechanical engineering technology, both graduate and undergraduate programs. He has expertise in manufacturing and service improvements incorporating quality, lean six sigma projects and RFID.
Research Overview
Mapa has managed over 30 lean six sigma projects with manufacturing, service and healthcare organizations. He has received industry sponsored projects and is a certified six sigma black-belt and quality engineer.
" I love to grow orchids and other tropical plants"
Select Publications
2019 "Leveraging Industry Partnership for Experiential Learning and Laboratory Improvement", CIEC Conference, New Orleans, Afshin Zahraee, Lakshman Mapa, Mohammad Zahraee
2016 "Radio Frequency Identification (RFID) Tag Detection in 3-D", Proceedings of the ASEE Annual Conference, New Orleans, LA, (Mapa, L., Suraiya Janith Khan)
2016 "Effect of Packing Density of Particles on RFID Penetration", Proceedings of the ASEE Annual Conference, New Orleans, LA, (Mapa, L., Rekha Gummereddy)
Teaching Focus
Mapa's teaching focus is on expertise, outcome and relationships with students. He communicates effectively and enthusiastically and took initiatives to place students in internships. Mapa has developed successful student-instructor relationships that are essential for effective teaching and receives outstanding performance in student evaluations.
Previous Roles
Chemical Engineer, Process Control Manager, Hawker Siddley, UK
Engineering Manager, Hawker Siddley, USA
Original Equipment Manager, General Battery Corp., USA