Lin Zhao, Ph.D.
Chair, Department of Quantitative Business Studies
Professor of Management Information Systems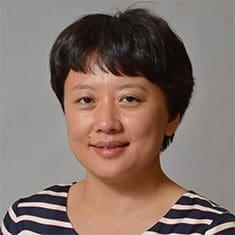 Introduction
As the chair of the quantitative business studies (QBS) department, Zhao oversees accounting, finance and business information and analytics programs. She is also a faculty member of management information systems.
Research Overview
Zhao's research focuses on IT-enabled organizational change, human-computer interaction (HCI), big data analytics and e-Learning.
Select Publications
Zhao, L. & Ye, C. (in press). Time and Performance in Online Learning: Applying the Theoretical Perspective of Metacognition. Decision Sciences Journal of Innovative Education.
Zhao, L., & Mo, S. (2016). The Impact of Metacognitive Awareness on Class Performance in Financial Accounting Courses, Academy of Educational Leadership Journal, 20(2), 78–88.
Zhao, L., & Abuizam, R. (2015). The Impact of Adaptive Learning in An Introductory Management Distance Education Course: An Empirical Comparison, Academy of Educational Leadership Journal, 19(3), 359–365.
Teaching Focus
I teach introduction to information systems, e-business strategy, system analysis and design, database management, business intelligence, UML and advanced spreadsheet modeling.