Matthew J. Bauman, Ph.D.
Assistant Professor of Hospitality and Tourism Management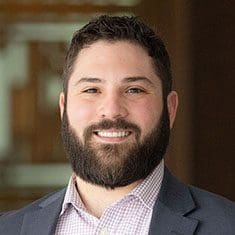 Introduction
Matthew J. Bauman is an assistant professor at the White Lodging School of Hospitality and Tourism Management, College of Business at Purdue University Northwest.
Research Overview
Bauman's research investigates how involvement and expertise impact consumer decision-making, information processing and preference development. More specifically, he investigates wine, beer and food consumer behavior in hospitality and tourism. His research has been published in academic publications, and has also been featured in various online trade publications like Forbes and WineBusiness.com.
Select Publications
Bauman, M. J., Yuan, J. &, Williams, H. A. (2019). Developing a measure for assessing tourists' empathy towards natural disasters in the context of wine tourism and the 2017 California Wildfires. Current Issues in Tourism, 23(19), 2476-2491.
Bauman, M. J., Velikova, N., Dodd, T. H., & Blankenship, T. (2019). Generational differences in risk perception and situational uses of wine information sources. International Journal of Wine Business Research, 32(2), 247-265.
Williams, H. A., Bauman, M. J., Yuan, J., & Williams, R. L. (2019). Craft breweries: Beer can anchor broader gastro-tourism destination development! In R. Capitello & N. Maehle (Eds.), Case Studies in the Beer Sector: A Volume in the Consumer Science and Strategic Marketing Series.
Teaching Focus
Bauman's teaching focuses include food and beverage, festivals and events, and marketing curriculum. His goal is to combine conceptual knowledge with applied, topical examples to create memorable experiences for my students that provide them with the expertise and enthusiasm necessary for becoming exemplary hospitality and tourism leaders. Simply put, his mission is to educate and inspire students.
Lionhearted Leaders: Matthew Bauman
Matthew Bauman, assistant professor at Purdue University Northwest's (PNW) White Lodging School of Hospitality and Tourism Management, likes to create a learning experience for his students.