Michael W. Pelter, Ph.D.
Associate Professor of Chemistry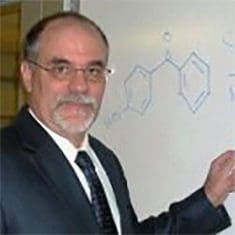 Introduction
Michael Pelter is an associate professor of chemistry. His areas of expertise include organic, polymer and computational chemistry and chemical education. He has been at PNW since 1991.
Research Overview
The main emphasis of Pelter's current work is to develop activities designed to aid in the visualization of organic molecules. His current projects involve the visualization of stereoisomers in molecules with an axis of chirality. He is also applying this methodology to octahedral organometallic complexes. Calculations are run on a Linux cluster at PUWL using Gaussian16 computational software.
I have been brewing my own beer for 30 years and am a certified beer judge in the Beer Judge Certification Program.
Select Publications
M. W. Pelter,* M. T. Howell, C. Anderson, A. Sayeed "A Computational Activity to Visualize Stereoisomers in Molecules with an Axis of Chirality" Journal of Chemical Education, 2020, 97, 754-759. DOI: 10.1021/acs.jchemed.9b00934
M. W. Pelter*, L. S. W. Pelter*, "20 years of Computational Chemistry at a Public Regional University. Thoughts and Experiences" Abstracts of Papers, 249th American Chemical Society National Meeting, Denver, CO (March 2015)
M. W. Pelter* and N. Walker "Chemoselective Hydrochlorination of Carvone A Guided-Inquiry Approach to the Analysis of the Product 13C NMR Spectra." Journal of Chemical Education, 2012, 89, 1183-1185. DOI: 10.1021/ed200515m
Teaching Focus
Pelter has adapted his teaching methods to include more guided-inquiry. This method seeks to increase student engagement in the classroom by having students work in self-managed teams to analyze data and draw conclusions. This reflects the attitude that the focus in the classroom should be on learning, not teaching. This learning method has led to increased student success.
Previous Roles
Post-Doctoral and Additional Studies:
• Philipps-Universität Marburg
• Colorado State University
• Siebel Institute of Technology
• Rice University
• University of Nebraska-Lincoln