Nesrin Ozalp, Ph.D.
Professor of Mechanical Engineering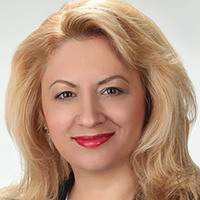 Introduction
Nesrin Ozalp is a professor and chair of the mechanical and civil engineering department and associate editor of the ASME Journal of Thermal Science and Engineering Applications and associate editor of Frontiers in Mechanical Engineering.
Research Overview
Ozalp's research is focused on experimental development of innovative and unique solar-thermochemical energy systems to produce fuels and commodities with significantly reduced emission footprint. She has built a strong and internationally recognized research program on solar cracking of natural gas for hydrogen production. She numerically models multi-phase, unsteady, chemically reacting flows.
I am fascinated by the great engineering minds that have shaped human civilization throughout history. I always wanted to have my design concepts come alive by building and testing them. My passion has been to create new devices that provide better use of our limited energy resources without disturbing the environmental balance of our planet.
Select Publications
Abedini-Najafabadi, H., Ozalp, N., Epstein, M., Davis, R. (2020). Solar carbothermic reduction of dolime as a promising option to produce magnesium and calcium. Industrial & Engineering Chemistry Research, in print, doi: 10.1021/acs.iecr.9b04856.
Abuseada, M.*, Ozalp, N. (2020). Numerical characterization of a high flux solar simulator using forward and inverse methods. ASME Journal of Heat Transfer, Vol. 142, p. 0221051-02210511.
Ophoff, C.*, Ozalp, N., Moens, D. (2019). Experimental performance comparison and optical characteristics of aperture mechanisms for solar cavity receivers. Solar Energy, Vol. 188, p. 66-82.
Teaching Focus
Ozalp's teaching focuses on thermal fluids covering heat transfer, fluid mechanics, thermodynamics, combustion and renewable energy systems.