Raven Chant
Coordinator of New Student Orientation and Recruitment Events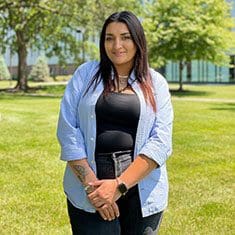 What's your educational background?
I am a Purdue University Northwest alum and a first-generation student! I earned my Bachelor's Degree in 2019 and my Master's in 2021, both in Communication.
Professional interests:
I love helping kids get connected to other students and faculty. Joining student organizations and making friends on campus really change my college career for me. When I graduated high school, I was at the top of my class.
College, at first, was not for me. I didn't want to go to class, and I was really struggling academically. Once I made a few friends, joined a club, and connected with some of my teachers, I finally felt like there were people in my corner that I could turn to for help. I was able to turn my grades around and feel confident again. I want to be one of those people to all the students that walk through my office and help them find their community here at Purdue Northwest.
What would people be surprised to know about you?
I worked at Walt Disney World! I did a Disney College Program semester back in my undergrad in food and beverage at the ESPN Wide World of Sports. I spent my days watching Atlanta Braves Spring Training, Orlando City Soccer and cheerleading nationals before clocking out and racing to ride Tower of Terror to ride it 5 times before they closed the park. It was the perfect job for me.
What do you love about PNW?
There's something for everyone. Obviously, we have so many different areas of study and clubs for all interests, but we also have different ways to study, campus events that cater to different personalities and students from every background. I love chatting with groups of friends that are all different but have found common ground.
PNW does a great job of celebrating differences and encouraging a community that is built on that.
Best tip for college students:
Take everything one step at a time and have confidence in yourself. College can be daunting in so many ways –new people, bigger assignments, you're kind of deciding your future here (!!!) and no one is going to call your parents if you skip class!? That is a lot of change at once. If you take things baby-step by baby-step at the beginning, at least you're moving forward. You don't need to feel confident; you need to think confidently. Trust in yourself as you continue to grow, and you will succeed.
Here to answer your questions about…
The best Student Organizations for your interests
How to connect with your teachers
Breaking down college terms and acronyms
How to build the best class schedule
Let's Talk!
Raven Chant (she/her)
(219) 989-8696