Vijay Devabhaktuni, Ph.D.
Professor of Electrical Engineering and Department Chair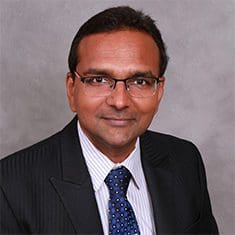 Introduction
Vijay Devabhaktuni is an advocate of experiential learning and industry engagement and fosters research that addresses contemporary problems. As the ECE Chair, he loves promoting faculty and student success.
Research Overview
Devabhaktuni's R&D examples include:
Applying cloud technologies in manufacturing
Applying computers for energy efficient homes
Applying machine learning to secure cyber data
Applying neural network to optimize yield of electronic devices
Applying virtual reality to medical education and UAVs
Applying visualization for enhancing healthcare.
His research is cited 4000 times.
I became an engineer because engineering entails applying math and physics theories to practice. Engineers can help enhance quality of life. By teaming with other diverse professionals (e.g. defense staff, medical doctors and social scientists), engineers can create wealth and save lives. Vijay likes chess, classical music, hiking, travel and yoga.
Publications
P. Damacharla, P. Dhakal, S. Stumbo, A. Javaid, S. Ganapathy, D. Malek, D. Hodge, and V. Devabhaktuni, "Effects of voice-based synthetic assistant on performance of emergency care providers in training," International Journal of Artificial Intelligence in Education, vol. 29, no. 1, pp 122–143, March 2019.
B. Snyder, R. Green, V. Devabhaktuni, and M. Alam, "ReliaCloud-NS: A scalable, web-based simulation platform for evaluating the reliability of cloud computing systems," Software: Practice and Experience, vol. 48, pp. 665-680, March 2018.
A. Sahu, P. Aaen, A. Lewandowski , M. Shkunov, G-P. Rigas, P. Blanchard, T. Wallis, and V. Devabhaktuni, "Robust microwave characterization of inkjet printed coplanar waveguides on flexible substrates," IEEE Transactions on Instrumentation and Measurement, vol. 66, pp. 3271-3279, October 2017.
Teaching Focus
At the graduate level, Devabhaktuni teaches computer aided circuit simulation. At the undergraduate level, he teaches linear circuits. He won teaching excellence awards at Carleton University, University of Calgary and University of Toledo.
Previous Roles
Prior to joining PNW, Devabhaktuni served in multiple roles at University of Toledo: Director, Interdisciplinary Research Initiatives, College of Engineering; Senior Director, Research Development and Innovation, College of Medicine; Special Advisor to CIO & CTO on Experiential Learning.