Planning Strategically for a Safe Return to Campus
May 26, 2020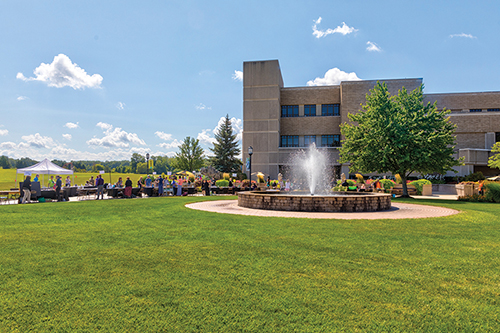 To PNW students, faculty and staff,
The Safe Return to Campus Task Force is strategically planning for the re-engagement of students, faculty and staff on our Purdue Northwest campuses. Our primary goal is the health and safety of every member of our PNW community. This is memo is the first of regular updates we, as co-chairs of the task force, will send to the university community in the coming weeks and months.
Since convening just two weeks ago, the task force has been cataloguing the many actions that have been taken across the campuses to keep everyone safe, to continue the educational process and to continue services to students. At the same time, we have begun the analysis and actions required to bring people onto the campuses regularly.
The U.S. Centers for Disease Control's Considerations for Institutes of Higher Education inform our discussions. Eight subcommittees of the task force are meeting frequently to conduct this detailed work; more information about their areas of focus is shared below.
At this time, it is anticipated that a phased approach to a return to working in campus offices for staff may begin the week of July 6, with proper safety protocols and social distancing. Guidelines for returning to work on campus are under development and will be shared in June.
As shared in a May 19 update to students by Provost Holford, PNW anticipates offering classes on campus this fall. It may be necessary, however, to begin the semester with some or all classes online or in a hybrid format. It should be noted that the plans of the Purdue West Lafayette campus and the Purdue Board of Trustees' action to change the academic calendar do not apply to PNW; the Purdue Northwest academic calendar is approved by the PNW Faculty Senate and remains unchanged at this time.
Areas of focus for the task force include:
Office Guidelines
Preparing three separate sets of guidelines for the safe face-to-face re-engagement and operation of student-facing offices, student support centers and general offices.
Health Concerns
Looking into the feasibility of implementing a pre- and post-screening process through Brightspace to help with internal contact tracing.
Working with PNW resources (Marketing and Communications, Information Services, Nursing) to produce training videos for our campuses on safety protocols such as proper handwashing, social distancing and how to self-sanitize your workspace.
Campus Auxiliary Services
Conducting a "deep dive" analysis into various service areas of the university to ensure proper changes have been made, and to begin planning for next phases.
Auxiliary areas include Housing, Fitness Recreation and Intramurals, Strategic Events, University Mail and Printing, Chartwells, Gabis Arboretum at PNW, campus Bookstores.
Housing remains open and has increased disinfection of public areas and added new social distancing protocols. To date, we have not been notified by health officials of any community transmission at University Village.
Instruction
Focus groups were held with faculty, led by Faculty Senate, and an open forum with students, led by Student Government Association, to gather information about how classes can be delivered safely this fall. The task force is seeking suggestions about how a hybrid model might work and what our faculty and students see as most effective.
A current review of all classroom and lab space is being conducted to determine the capacity of each space with social distancing guidelines. We also are looking at larger non-academic classroom space as an alternative to keep larger enrolled classes meeting on campus.
A review of the fall schedule with enrollments is being conducted to determine the room or modality changes that may be needed for courses.
Communication
Preparing guidelines for faculty, staff and students for the return to campus. These guidelines will be made available digitally and in a printable format.
Benchmarking other universities.
Sanitation and Cleaning
PNW has implemented additional cleaning precautions and practices, increased cleaning and disinfecting throughout the day in high-traffic areas, and distributed door hang tags to identify areas that have been occupied.
Closing all spaces that are in high touch areas or larger gathering areas.
Looking into establishing centralized trash collection.
Promoting the use of paper towel instead of hand dryers.
Technology
Reviewing services that Information Services offered before and new services implemented due to COVID-19. Evaluating which services need to be expanded and may require additional funding or other resources needed for the fall semester.
Looking at what additional training may be needed as well as best practices for faculty, staff and students.
Public Safety and General Campus Issues
The members of the Task Force are working quickly and diligently to develop comprehensive recommendations for the remainder of summer and the fall semester. We plan to share regular updates on the work of this group via email, and the university will provide details about fall as soon as possible. As a reminder, please check the PNW COVID-19 website regularly for current information.
Lawrence Hamer and Julie Wiejak
Co-Chairs, Safe Return to Campus Task Force