PNW earns designation as First-gen Forward institution
March 9, 2022
Purdue University Northwest (PNW) has earned national recognition of its efforts to support first-generation college students in attaining a degree.
The Center for First-generation Student Success, an initiative of National Association of Student Personnel Administrators (NASPA) – Student Affairs Administrators in Higher Education and The Suder Foundation, recently announced PNW will be included in its 2022-23 First-gen Forward cohort.
The First-gen Forward designation recognizes institutions of higher education that have demonstrated a commitment to improving experiences and advancing outcomes of first-generation college students. 
In the application process, PNW had to demonstrate that the university has current practices and a campus culture supporting first-generation college students. Some of PNW's successes include housing a robust TRIO program with a pipeline helping students from middle school through post-graduate program preparation, and fostering a collaboration between the Leadership Institute at PNW and the 21st Century Scholars Program.
"First-generation college students are a significant part of our DNA at PNW, and we have to continue unpacking what that means for us in terms of programs of interest, tutoring, mentoring, a sense of belonging, and academic confidence," says Catalina Rodriguez, assistant vice chancellor of Educational Opportunity Programs at PNW. "First-generation college students have a particular set of experiences that require a new lens to support."
"The First-gen Forward designation is a testament to the great work that is already being done at PNW to celebrate and support our first-generation college students," says Rachel-Clapp Smith, interim dean of the College of Business, who helped in the application process for the First-gen Forward designation. "It also opens opportunities for us to be more purposeful in our support. In the lifecycle of a student's experience at PNW, from appreciative advising to academic support to career placement, we have a strong foundation on which to build as we learn from our peers in the First-gen Forward cohort. The designation will help us continue building an environment where our students flourish and pursue their dreams."
"First-gen Forward now recognizes and supports nearly 300 diverse institutions across four cohorts, all of which continue to lead the nation through their commitment to first-generation student success," says Sarah E. Whitley, assistant vice president of the Center for First-generation Student Success. "We are pleased to welcome Purdue University Northwest for their long-term commitment and demonstrated strategies for advancing first-generation student initiatives."
As a First-gen Forward Institution, interested faculty and staff will be afforded multiple opportunities to engage with peer institutions who are also creating environments that improve the experiences and outcomes of first-generation college students. Selected institutions will send representatives to the First-gen Forward Conference slated for early June and will participate in monthly calls, virtual professional development, goal setting, blog development, annual reporting, and more. After two successful years in the program, institutions are eligible to apply for the Advisory leadership designation. 
"The advantage of being part of a cohort is you can learn from others at similar universities so we can share in our challenges and in our wins of supporting academic outreach to first-generation college students," Rodriguez noted.
Selected institutions receive professional development, community-building experiences, and a first look at the Center's research and resources.
The Center for First-generation Student Success
The Center is the premier source of evidence-based practices, professional development, and knowledge creation for the higher education community to advance the success of first-generation students. Based in Washington, DC, the Center aims to acknowledge the intersectional experiences of first-generation college students. It offers an outlet for sharing cutting-edge research and current media conversations, opportunities for engagement through online learning, conferences, and events, and access to a bevy of programs and services intended to improve first-generation initiatives across higher education.
National Association of Student Personnel Administrators
NASPA is a member-centered association supporting a diverse and passionate network of 15,000 professionals and 1,200 institutions across the globe. It is the professional home for the field of student affairs and is dedicated to cultivating student success in collaboration with the missions of its institutional members—a network of colleges and universities representing every sector of higher education.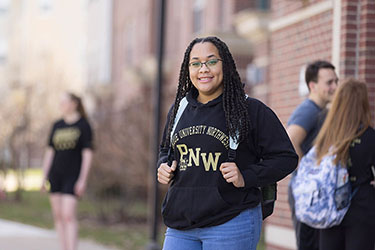 First-Gen Students
As a First-Gen Forward Institution, Purdue University Northwest celebrates and supports our first-generation students, connecting them with the resources they need to thrive.