PNW Mask Protocol for On-Campus Community Members
May 14, 2020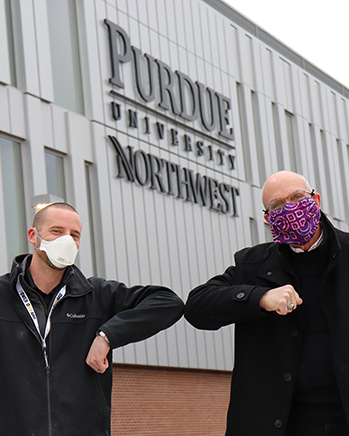 This update communicates masking protocol for PNW students, faculty and staff who must be on campus.
Until further guidance is received, a mask should be used as described below. An account has been established for the purchase of COVID19 personal-protection equipment. Please contact your department business manager for details.
PNW Mask Protocol for All On-Site Campus Members
When you are in a building, hallway, classroom, laboratory, washroom, common area, you must wear a mask.
If you are faculty or staff member, and in your own office, you do not have to wear a mask. When you leave your office and are in the hallway, your mask must be on. When you are visiting another Purdue Northwest office, you must wear a mask.
If you are outdoors, you do not have to wear a mask, but social distancing still applies.
If you are at an outdoor event, with multiple participants, you must wear your mask.
Sincerely,
Brian Miller
Director of Public Safety
Frequently Asked Questions
Recent studies suggest that coronavirus disease 2019 (COVID-19) may be transmitted by infected persons given in the absence of symptoms of disease. While social distancing and good hand hygiene are the most important methods to prevent virus transmission, new guidelines state that healthy individuals can consider wearing masks in public settings, particularly when physical distancing is difficult (like in grocery stores or pharmacies).
Primary benefits of wearing a mask include limiting the spread of the virus from someone who knows or does not know they have an infection to others. Masks also remind others to continue practicing physical distancing.
However, non-medical masks may not be effective in preventing infection for the person wearing them. Masks should not be worn by children younger than 2 years or by individuals who are unable to remove the mask by themselves or are unconscious.
Unless you are sick, a health care worker, or caring for someone who has COVID-19, medical masks (including surgical face masks and N95s) are not recommended. Because of shortages, medical masks should be prioritized for health care workers providing care for patients.
Cloth face coverings can be made from household items such as two layers of cotton fabric, T-shirts, bandanas, or bedsheets. Masks should be secured with ear loops or ties.
Whatever material a face mask is made from, it should fit well and cover the nose and mouth. The mask should not restrict the wearer's ability to breathe.
Before putting on a face mask, wash your hands with soap and water for at least 20 seconds or use an alcohol-based hand sanitizer (with at least 60% alcohol). Without touching the front of the mask, secure the ties behind your ears or head.
While wearing the mask, do not touch the mask or your face. When removing the mask, take off the ear loops or ties first. Do not touch the front of the mask or your face when removing the mask.
After removing the mask wash your hands with soap and water for at least 20 seconds (or use hand sanitizer). Face masks should be washed routinely with soap and water or laundry detergent to prevent contamination.
Wearing a mask in public should always be accompanied by remaining at least 6 feet away from others and practicing good hand hygiene.