PNW Moving Forward
July 3, 2019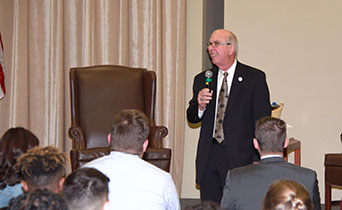 To: Campus Community
From: Thomas L. Keon, Chancellor
Date: June 13, 2019
RE: PNW Moving Forward
I am pleased to announce several very important and impactful initiatives that will continue to move PNW forward. These initiatives will strengthen our Westville campus, increase student success, and enrich the overall student experience.
I am grateful to several groups, in particular, who have worked on these initiatives with the Senior Leadership Team. These include the Faculty Senate Westville Task Force, the Westville Task Force led by Vice Chancellor Steve Turner, the Westville faculty who met with me in 1-1 meetings last spring, the Deans, and all of you who provided feedback at the open forums provided for students, faculty, and staff of Westville or through the survey that followed the open meetings.
In the coming months, we will be working with faculty, staff and students throughout PNW to enact the following:
Sixteen entire degree programs will be offered at the Westville campus with no need to travel to the other location. Of course, all degree programs will continue to be available to students who may wish to take courses on both campuses.Specifically, the Deans and Senior Leadership are working together to formalize a plan to initially offer 16 degree programs in academic year 2019-20 that can be completed entirely at the Westville campus. This will guarantee that all students – including currently enrolled seniors, juniors, sophomores, and incoming freshman — in the 16 programs at Westville will be able to fully complete these programs over the four years that follow Fall 2019.In addition, departments will be able to petition the Provost to have additional degree programs completely offered at a single campus.
Programs Offered at Westville with no need to travel to Hammond
College of Business
College of Engineering and Sciences
BS — Biology
BS — Health Studies
BS — Electrical Engineering
BS — Mechanical Engineering
College of Humanities, Education, Social Sciences
BLS — Liberal Studies
BA — General Communication
BS — Psychology
BA — Social Work
BA — Behavioral Sciences
BA — Elementary Education: Reading Concentration
BA — Early Childhood Education
College of Nursing
BSN — Nursing (Second Degree Accelerated Option courses will be offered in Hammond only during the summer session.)
College of Technology
BS — Construction Engineering and Management Technology
BS — Computer Information Technology
BS — Mechanical Engineering Technology
A new PNW course section cancellation policy will be enacted in fall 2019. Course sections will not be cancelled later than two weeks before the semester begins (in 2019, August 5). In other words, no courses will be cancelled after August 5 for fall 2019 or after December 15 for spring 2020.Students who are affected by a section cancellation will be contacted by an academic advisor and will work with him or her to find an alternative course section or another course that is part of the degree program. (See below.)
Beginning spring 2020, a three semester schedule will be published (summer, fall and spring). This will allow students to plan their courses of study efficiently and to know if or when travel may be needed to take a course, for example.​
The Shuttle will continue next year and the Department of Public Safety will be working with the Registrar to develop a shuttle schedule that aligns more closely with the course schedule and class start times.
Increased marketing through billboards will begin later this summer with new advertising in LaPorte and Michigan City.
Westville campus student life and student organizations will be enhanced through the hiring of a full-time staff member whose primary responsibility will be to facilitate student programming; and also manage development of new student organizations with faculty sponsors and interested University staff.In addition, the Office of Enrollment Management and Student Affairs, starting Fall 2019, will sponsor a Faculty Fellow position to support student affairs primarily in Westville and will be housed on the Westville campus.  Student Fees will be allocated to support these initiatives.Once again, I would like to thank all of you who have participated in this important process. I am confident that these initiatives will strengthen PNW. We will monitor progress and make refinements as needed throughout the year.
Undergraduate Course Section Cancellation Policy and Procedure
Student Communication and Follow-up
Timeline
Three weeks prior to the first day of instruction, the following must be completed:
After department chair monitors course section enrollments and confers with the Dean, he or she works with academic advisors and the Registrar to identify and prepare for likely cancellations of low enrolled sections.
Department chair obtains the roster for the course section and informs the Registrar's office.
Department chair informs the instructor of record and acts accordingly: to reassign the faculty member or to terminate an appointment.
Department chair uses the class roster to create a list of students in the cancelled course, including each student's student id and contact information; chair sends to the department's Academic Advisor.
After receiving the information, department academic advisor researches the student's current schedule and develops options for the student (alternative sections of the same course or other required courses).
Advisor contacts the student via email and phone to inform him or her of the course cancellation and to offer suggestions for replacing the cancelled course. If the student does not respond, advisors should continue to attempt contact.
Department staff may also assist in contacting the student about the cancellation and encourage him/her to contact the department academic advisor for assistance in registering for a new course. Department staff should ensure that the student has the correct contact information for the academic advisor.
Courses or sections to be canceled must be closed Two weeks prior to the first day of instruction:  Course sections cannot be cancelled after this date as the department is now committed to offering this section of the course. 
For Fall 2019:  Three weeks is July 29; two weeks is August 5.
For Spring 2020: Three weeks is December 09; two weeks is December 16 (university closed the week of December 23- January 2).
Last Revision: June 12, 2019 3:25 p.m.