PNW Student Technology Guide
August 17, 2023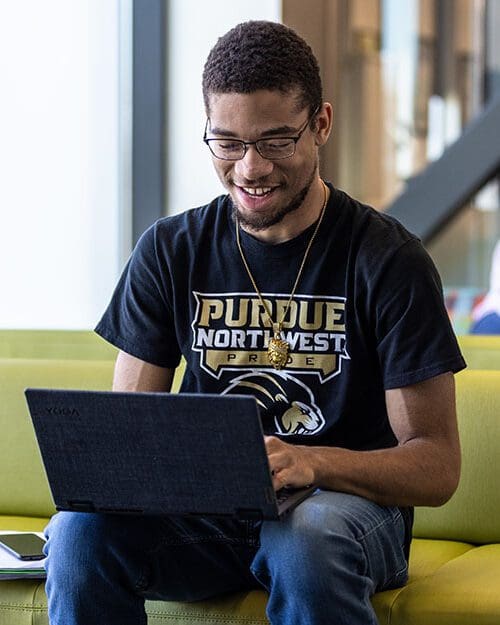 Purdue University Northwest has a range of digital tools to help you stay on top of your classwork, stay connected with professors and advisors, and manage learning activities from scheduling exams to paying your bills.
---
Wondering which tool to use? Get started with our quick guide!
Student Landing Page
From myPNW and Brightspace to the latest student news and events, our student landing page is a great resource for finding your most-used links in one key spot!
myPNW
Also known as the PNW Portal, this two-factor authentication-protected intranet shares a range of resources. Pay your bills, register for classes and find key forms and links.
Class Schedules and Course Descriptions
This is where you can check course availability and prepare to register for classes. You can even log in to check your registration status or see why you may or may not be able to register for a given course.
Brightspace
PNW's learning-management service, Brightspace is where you'll see information for your classes and connect with professors.
Accounts and Passwords
You'll use your PNW username and password to access a range of digital services! Learn more about creating and changing your accounts.
Purdue Login
A two-faction authentication system, Purdue Login significantly improves the security of protected computer systems and accounts by requiring two forms of verification before access is granted.
Your Contact Information
Log in here to update your personal information, including preferred email address, phone numbers and emergency contacts.
Student Email
Every student is provided with a Gmail account with more than 6 gigabytes of storage, fast Google search and powerful spam protection.
Alert Me!
Sign up for PNW's Alert Me! emergency text-messaging service to receive in-the-moment notifications about urgent events impacting PNW's campuses.
PNW Mobile App
PNW's mobile app provides access to news, events and a variety of campus services—everything from campus maps to class schedules.
myPNW Plan*
Wondering if you're on track to graduate? This degree-audit and advising tool helps you and your academic advisor review progress toward your degree.
Navigate*
An easy way to schedule an appointment with your advisor. Your advisor is here to offer guidance on your path at PNW, from exploring campus resources to choosing the right classes to meet your goals.
You can also use Navigate to schedule time to meet with a tutor or supplemental instruction leader. All PNW students have access to free academic support services, including tutoring, and peer tutors are using Navigate to schedule appointments to offer tutoring online via Zoom.
Learn About Supplemental Instruction
* Please note: the myPNWplan and Navigate services are configured for undergraduate students only.