Purdue Northwest partners with Innovate WithIN to encourage youth entrepreneurship in Northwest Indiana
February 15, 2021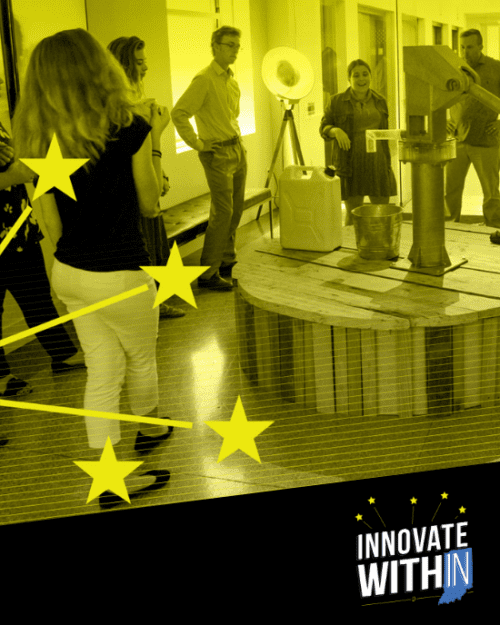 Purdue University Northwest (PNW) and the Society of Innovators at PNW have partnered with Innovate WithIN (IWI), the most elite pitch competition in the country for aspiring high school innovators, to encourage youth entrepreneurship across Northwest Indiana. Student contestants have an opportunity to win $25,000 in funding, tuition, and other prizes.
"All students deserve a world-class, well-rounded education and entrepreneurship is an integral aspect of this. That is why the Society of Innovators hopes to break down barriers to innovation and entrepreneurship. It is critical for our region's 21st century economic success that all students are not just prepared to take jobs, but to create them," said Sheila Matias, executive director at the Society of Innovators and Leadership Institute at Purdue Northwest.
The Innovate WithIN competition works in three phases: submission, regionals, and finals. Students will form a team (solo or up to three people), participate in a guided business planning process and then submit their plan and a video recording of their pitch. Ten teams will be selected to compete live in the regional competition where each student on the winning team in their region will receive $1,000 and a chance to participate in the state finals.
State finalists will participate in a 30-day entrepreneurial bootcamp, culminating in the state finals where student teams will again pitch their business to a series of judges. Each member of the winning team will receive $10,000 in seed funding and $10,000 in tuition to their choice of an Indiana college. All state finalists will then spend four days traveling to a city outside of Indiana to meet celebrity entrepreneurs, world-class business leaders, startups and large enterprises from around the nation.
Purdue Northwest is offering additional scholarship prizes and benefits to participants and winners of Innovate WithIN who enroll at PNW:
 A one-year (non-renewable) full tuition scholarship will be offered to first place winners (at the NWI regional competition), once the winner is enrolled as a full-time, degree-seeking student at PNW.
 A one-year full tuition and room & board scholarship will be offered to first place winners at the state competition, once the winner is enrolled as a full-time, degree-seeking student at PNW.
 A $250 book scholarship will be offered to any IWI participant who registers as a full-time student at PNW.
All students will also be eligible to apply for other scholarships available to PNW students.
Students whose teams place (first, second, or third) at the regional and/or state competition will have an opportunity to intern with the Society of Innovators at Purdue Northwest or the Northwest Indiana Small Business Development Center, if they enroll as a degree-seeking student at PNW.
"We're eager to see the Innovate WithIN program grow and develop in our region as part of our university-wide effort to grow and support a thriving youth entrepreneurship ecosystem in Northwest Indiana," said Matthew Wells, director of external engagement and partnerships at Purdue Northwest.
To participate, students must be high-school aged (14-18 years), enrolled in an Indiana high school, and reside in Indiana. To learn more and apply to participate, visit www.innovatewithin.org. Applications must be received by February 28.