Purdue Northwest unveils the White Lodging Professional Sales Lab
September 24, 2018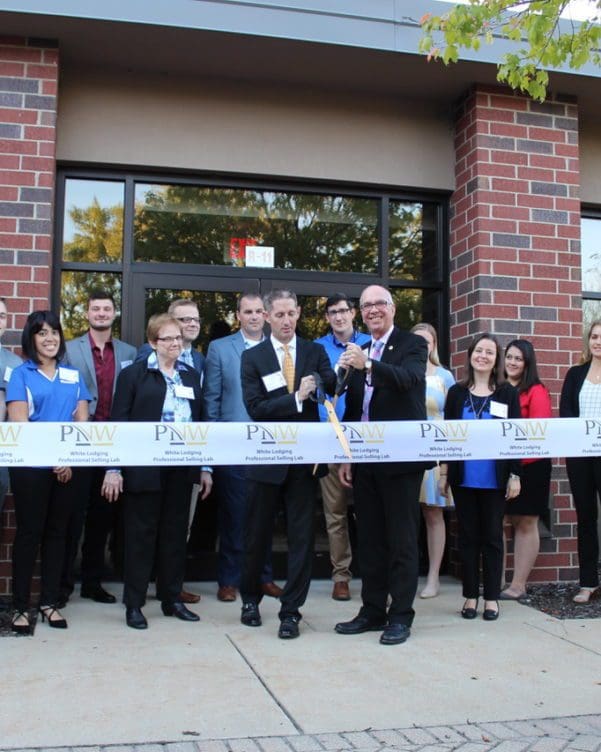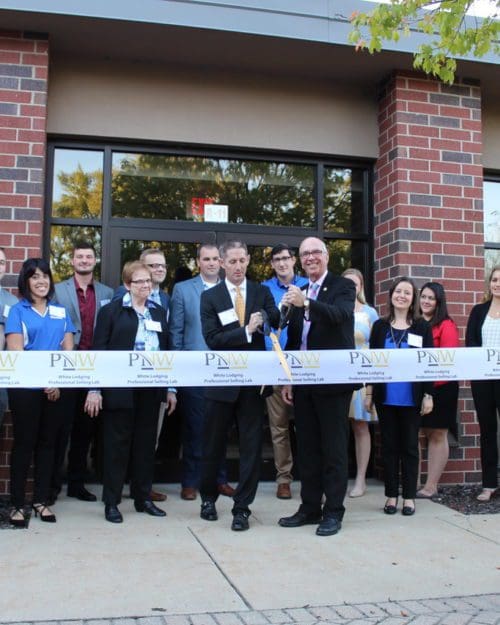 HAMMOND, Ind. —Lodging Professional Sales Lab on PNW's Hammond Campus. The new facility, which celebrated its grand opening earlier this month, also provides a platform for connections with the business community.
Associate Professor of Marketing and Director of the Professional Selling Program Claudia Mich said the new sales lab expands and enhances students' educational experiences.
"We went from one sales class to a full sales minor," said Mich. "We also went from recording students' 'role-play' scenarios on cell phones in makeshift offices, to a state-of-the-art facility; and from one instructor, to a team of collaborators working together on instruction, career placement and outside partnerships."
Housed within the Hospitality and Tourism Management Building, the lab features high-tech classrooms and six practice office suites for role-playing and interviewing. Offices will be used for teaching, group activities and events connecting corporate partners with students.
Seasoned through practice
Built on principles of personal integrity, relationship-building and professionalism, PNW's Professional Selling Program within the College of Business (COB) provides students with the techniques and practice to sell a variety of product and services, such as shipping services, customer relationship management software, or pharmaceutical products. Students become seasoned through researching products and presenting to "mock" business clients; rehearsing scenarios they will encounter in their careers.
Practice leading to careers
In partnership with COB's Center for Career Management, corporate partners will use the sales labs practice suites to interview students for internships and jobs, allowing additional interactions for students with the Northwest Indiana business community.
Sponsors of the professional sales lab include White Lodging (platinum level); Panduit (gold level); DishOne and Fastenal (silver level); and Enterprise Holdings (bronze level).