Show Your Pride. Share Responsibility.
August 21, 2020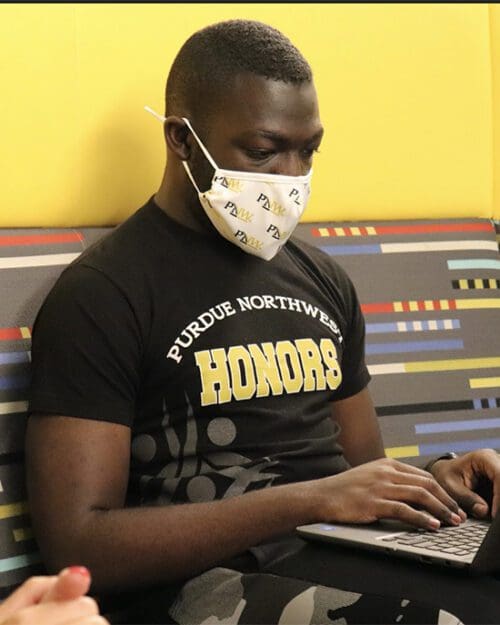 As PNW prepares for our safe return to campus, there are steps we can all take to help keep our community safe! Remember these simple steps to limit the spread of COVID-19.
1. Wear a Mask
You must wear a mask when you are in a building, hallway, classroom, laboratory, washroom or common area. This simple act can help limit the spread of the virus. Masks also remind others to continue practicing social distancing.
If you are outdoors, you do not have to wear a mask, but social distancing still applies. Similarly, faculty and staff members do not have to wear a mask in their own office.
PNW Mask Protocol for On-Campus Community Members
2. Practice Social Distancing
Another strong step to limit the spread of COVID-19 is to practice social distancing, keeping a distance of about 6 feet from others. From limiting social gatherings and non-essential workers to pursuing a hybrid approach to Fall 2020 classes, we are building social distancing into PNW's safe return to campus.
3. Keep It Clean
Cleaning and disinfecting will be an important aspect of reducing exposure risks associated with COVID-19. Remember, clean hands keep you healthy! Be sure to wash your hands with soap and water for at least 20 seconds.
When the university incrementally reopens, all campus community members will be asked to take part in minimizing risk of exposure and preventing the spread by cleaning and disinfecting the various areas of campus.
PNW COVID-19 Cleaning and Disinfecting Protocols
4. Stay Home If You're Sick
Your health and safety is our top priority. If you are not feeling well, please stay home, immediately contact your medical provider and follow their directions.
See Return to Campus Guidelines (PDF)
Reporting a Positive COVID-19 Test
These four small steps can make a big difference for a healthy semester. Together, we can show our PNW Pride and share responsibility for keeping campus safe.