Society of Innovators 2022 Women to Watch
January 20, 2022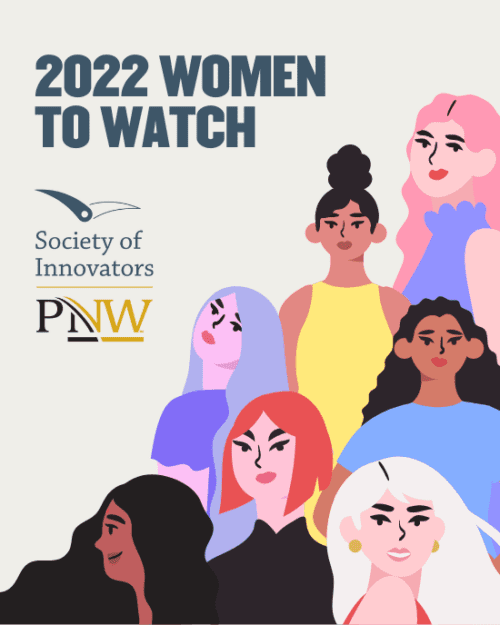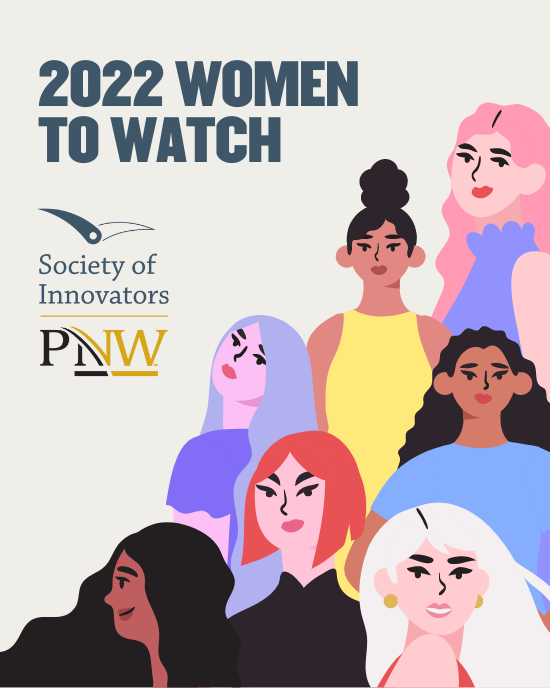 Our 2022 Women to Watch List includes innovators and entrepreneurs that are making an impact across Northwest Indiana. These are the leaders shaping business and economic growth in our region's communities. Some names may be familiar, while some may be new to you. In all cases, these women achieved success in 2021 and are carrying that momentum with them into the new year.
Nassim Abdi, Ph.D.
Nassim Abdi is CEO and co-founder of StoryBolt, a Hammond-based startup that focuses on equity and inclusion training. Last fall, Storybolt closed on $1 million in seed funding that included the first investment from Ohio-based CareSource's Diversity & Social Impact Investment Fund. The startup has developed a platform that connects companies with a library of more than 4,000 short documentaries to create engagement and candid conversations with employees.
Dale Cooper
Dale Cooper, Community Relations Manager for Visit Michigan City La Porte tourism information center, is a true connoisseur of the arts. Cooper works tirelessly with countless local artists in the La Porte County area to help them get the recognition they deserve. Cooper also serves on the Board of Directors for the Lubeznik Center for the Arts, the Michigan City Public Art Committee, and La Porte County Historical Society Museum.
Emily D. Edwards
Emily D. Edwards is the owner of an organic vegan food brand serving sweet protein icings, dips, and snacks to maintain a healthy diet. The 2020 Society of Innovators inductee rebranded her company to Paradise Spreads last year and continues to increase distribution throughout grocery chains such as Strack & Van Til.
Kristin LaFlech
Kristin LaFlech is a business teacher at Munster High School. She was hired at the start of the 2021/22 academic year to head up the school's new innovation lab. INCubator@MHS is a new business program that provides students the opportunity to develop their own real-world products and services that could potentially garner thousands of dollars in funding.
Brianna Hairlson
Brianna Hairlson is the owner of Bri's Dance Place, a dance studio located in Merrillville, where she provides classes for all ages, stages, and abilities while focusing on age-appropriate choreography, music, and costuming. The Northwest Indiana Small Business Development Center named Hairlson its Young Entrepreneur of the Year as part of the 2021 Entrepreneurial Excellence (E-Day) Awards. 
Jane Lump
Jane Lump is a speaker, author and innovation strategist with over 25 years of experience helping others communicate important issues to motivate action. In 2021, she published her first book, Run with Scissors: A Guide for Taking Risks to Discover Your Purpose. Today, Jane helps individuals explore their purpose and form step-by-step plans to make their dreams a reality.
Kelly Nissan
Kelly Nissan is Vice President, Social Responsibility & Impact at Boys and Girls Clubs of Greater Northwest Indiana. Her organization recently received a $4 million grant from Indiana's Student Learning Recovery Grant Program. The grant in Northwest Indiana will help fund The Boys & Girls Clubs' Career Academy which targets middle and high school students to help them determine their post-graduation options. The Boys & Girls Clubs will partner with corporations, provide the opportunity for college tours and train students on skills such as interviewing, entrepreneurship and innovation.
Fonda Owens
Fonda Owens is the Director at La Porte County Public Library (LPCPL). During the COVID-19 pandemic, the library has been especially innovative in coming up with smart and effective ways to continue serving its community. Owens, a 2017 Society of Innovators inductee, led development of The Exchange at LPCPL. The new location, which opened in 2021, is an innovative, library-makerspace. It is a space for community members to collaborate with others, learn a new skill, explore a hobby, plan a business, and much more without the cost of owning equipment. There are meeting rooms, video and audio studios, machines, tools, and more, all available free to the public.
Andrea Proulx Buinicki
Andrea Proulx Buinicki is a seasoned nonprofit professional with over 20 years of fundraising, marketing, strategic planning, and program development experience. She was a 2021 inductee into the Society of Innovators as part of a team at United Way of Northwest Indiana for launching Level Up, an innovative, collaborative, customer-centric model to connect low-income working families with better paying jobs, training, financial wellness strategies and basic needs resources. Proulx Buinicki recently took on a new role as Vice President, Workforce Initiatives at Center of Workforce Innovations.
Mekisha Richardson
Mekisha Neal Richardson is a passionate educator who has mastered the resiliency and can-do spirit of the career pivot. A former Chicago Public School teacher, Mekisha worked in various business positions for a national non-profit and brings that blend of skills to the Leadership Institute at Purdue Northwest. At PNW, she is designing, developing, and managing leadership and innovation programs at the Leadership institute and the Society of Innovators as one component of PNW's vision to serve as a premier metropolitan university in Northwest Indiana. 
Ivana Sedia
Ivana Sedia was born in Argentina but moved to Northwest Indiana with her family in 1989.  As a fluent Spanish, Italian, and English, and proficient Macedonian speaker, Ivana has always been moved by language and understanding. She founded Unida Translation, a full-service translation company, to help all businesses – small or large, global or local – through localization of content that transcends borders and boundaries.
Rose Tejeda
Rose Tejeda is an experienced interior designer focused on providing one-of-a-kind designs for any business or home. In 2021, Tejeda began working with Michigan City's Redevelopment Commission to make developments for the South Shore Line Double Track NWI project more aesthetically pleasing.
Cheryl Smith
Cheryl Smith is co-owner of The Point Drive-In in North Judson. Cheryl bought the business in 2020 and they have plans to return the business into the premiere destination for ice cream cones, cheeseburgers, and cruise-ins as they bring back the history for all generations to enjoy. In October, The Point Drive In won the second annual Starke Tank, a business pitch competition for Starke County businesses. 
Carmen Vincent
Carmen Vincent is a filmmaker and diversified video editor based in Northwest Indiana. She produces and edits all kinds of content including documentary and narrative films, commercial videos, promotional videos, educational content, compilations, fundraising campaign videos, ​social media videos, and more. In 2021, Vincent completed Indiana Art Commission's On-Ramp Creative Entrepreneur Accelerator and is currently producing a documentary titled "Teacher of Patience," about a small-town Indiana family's effort to educate their community, especially first responders, about how to interact with individuals with Down syndrome.
Amanda Zelechoski, Ph.D.
Amanda Zelechoski is a licensed clinical and forensic psychologist and attorney, specializing in trauma. In addition to serving as professor of psychology and Director of Clinical Training at PNW, Dr. Zelechoski is also co-founder of the nonprofit organization, Pandemic Parenting, which provides free science-based resources for busy parents and all who care for kids.
Did we miss someone you think should be on this list? Please email us at societyofinnovators@pnw.edu or submit a nomination for the 2022 Society of Innovators Awards.