Spring 2020 Graduates Invited to Participate in Fall 2020 Ceremonies
April 14, 2020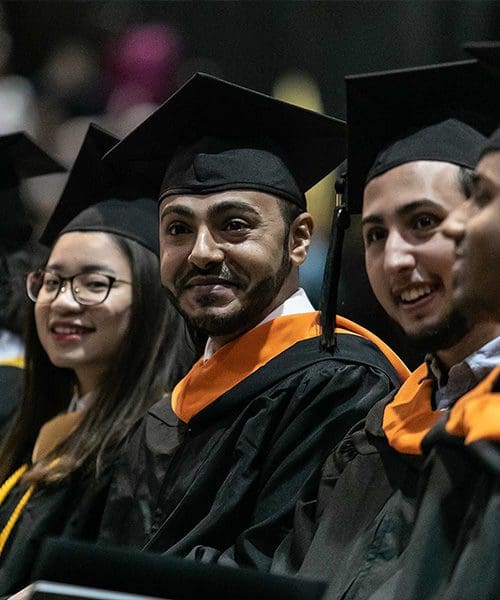 Dear PNW Campus Community,
The commencement ceremony is the culmination of our students' tireless hard work and persistence and celebrates their academic accomplishments at Purdue Northwest. Taking part in the tradition of commencement is an important milestone in a person's life and it is for this reason that we are offering Spring 2020 graduates the opportunity to participate in the Fall 2020 PNW Commencement Ceremonies.
Though many unknowns loom in the foreseeable future, we want to do our best to provide an opportunity for our graduates to be celebrated in a way that they so greatly deserve.
As always, a student's choice to participate in the commencement ceremony does not reflect their status as a PNW graduate. Whether they choose to participate or not, they can expect to receive their diploma in the mail by early June.
Fall 2020 commencement ceremonies will take place at the Westville Campus on the weekend of December 11. We will determine the dates and times of each individual ceremony during the early part of the fall semester. By the end of September, we will contact the graduates with a specific ceremony date and time and ask them to officially register as a participant.
All graduates are also invited to attend Grad Expo this fall, where they can pick up their cap, gown, and other graduation regalia, as well as take professional photos. The Career Center and the PNW Alumni Community will also be in attendance. Grad Expo will offer extended hours to accommodate work schedules and other obligations our graduates will have.
Grad Expo at the Westville Campus: October 19 and 20, 10 a.m. to 7 p.m.
Grad Expo at the Hammond Campus: October 21 and 22, 10 a.m. to 7 p.m.
Students who wish to purchase a cap and gown now, can do so by visiting PNW Bookstore-Graduation Items. The PNW Campus Bookstore is fulfilling regalia orders with free shipping.
Congratulations to all spring 2020 graduates on earning your degrees. We are looking forward to celebrating your academic accomplishments this December and wish everyone well with the rest of the semester. Keep Powering Onward!
Sincerely,
Cheryl Arroyo
Registrar