Staying Safe and Reconnecting with In-person Events This Spring!
April 2, 2021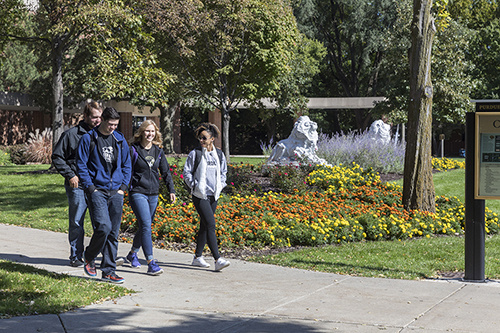 Dear PNW students,
I am writing to congratulate you all and share how very proud of we are of the progress we have made as a community in fighting COVID while continuing to deliver great educational opportunities.
Even as we restored some classes to in-person learning, the student infection rate has remained extremely low. This shows that while it has taken time, our protocols are allowing us to plan for a safe reopening of our campuses. With your continued efforts, we intend to restore normal operations on both campuses for Fall semester 2021!
As the weather gets warmer, and more people get vaccinated, we are excited to begin offering more in-person events. These events will allow us to reconnect as a community and celebrate a return to a more normal campus life.
Our first chance for students to reconnect will be our in-person Homecoming events next week, including the carnival, yard party, and Pride in the Sky fireworks nights on the Hammond and Westville campuses. Later in the semester, graduates and their families will be able celebrate at our first in-person commencement in over a year.
Every single PNW student, and especially our graduates, should be incredibly proud of the effort you have made to succeed and strive for excellence even in the middle of a global crisis.
As we look forward to Spring and Summer, we need to stay safe. Below is updated information on campus safety protocols as well as the vaccination program underway in Indiana right now. You are encouraged to get vaccinated as soon as possible, but remember that safety protocols will still be required.
As always, be safe, wear a mask, and keep your distance. Please contact dos@pnw.edu if we can help in any way.
Sincerely,
Colin Fewer
Associate Vice Chancellor for Student Affairs
Dean of Students
---
PNW COVID SAFETY PROTOCOLS
Get your shot now!
As of Wednesday March 31, any Indiana resident 16 and older became eligible to sign up for a vaccination. Residents can use this link:
https://vaccine.coronavirus.in.gov/en-US/
Masks on Purdue Northwest Campuses
On April 6, the state of Indiana will be lifting its mask mandate.  Purdue University Northwest will be keeping its mask mandate in place until further notice for all buildings and grounds.  We will advise our campus community if any changes are made to our face covering protocol.  You can find the full face covering protocol at https://www.pnw.edu/face-covering-protocol-for-on-campus-community-members/.  Thank you for your continued support of this policy on our campuses.
Updated Guidance for Vaccinated Individuals
How and when a fully vaccinated individual can visit with other people who are fully vaccinated and with other people who are not vaccinated:
Visit with other fully vaccinated people indoors without wearing masks or staying 6 feet apart.
Visit with unvaccinated people from one other household indoors without wearing masks or staying 6 feet apart if everyone in the other household is at low risk for severe disease.
Refrain from quarantine and testing if they do not have symptoms of COVID-19 after contact with someone who has COVID-19.
A person is considered fully vaccinated two weeks after receiving the last required dose of vaccine.
The CDC recommends that fully vaccinated people continue to take these COVID-19 precautions when in public, when visiting with unvaccinated people from multiple other households, and when around unvaccinated people who are at high risk of getting severely ill from COVID-19:
Wear a well-fitted mask.
Stay at least 6 feet from people you do not live with.
Avoid medium- and large-sized in-person gatherings.
Get tested if experiencing COVID-19 symptoms.
Follow guidance issued by individual employers.
Follow CDC and health department travel requirements and recommendations.
Feedback Survey
A feedback survey is available on the PNW website and can be used to ask any and all COVID-related questions.  For example, you can use the survey for:
Asking a COVID-19 related question
Expressing a concern about a COVID-19 protocol not being followed on campus
Providing feedback about a COVID-19 response
Alerting the task force about the need for additional signage concerning protocols
Communicating you have been exposed or possibly exposed to COVID-19
For guidance on how to report a Positive COVID-19 Test Result please click here
As always, if you have any questions about these protocols please contact safereturn@pnw.edu or use the Feedback Survey on our website.