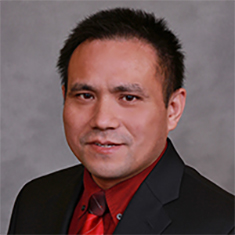 Cybersecurity professor recognized for contributing to cybersecurity workforce
Cybersecurity professor, Michael Tu, strengthening the cybersecurity workforce
January 23, 2020
Michael Tu, associate professor of Computer Information Technology and Graphics at Purdue University Northwest's (PNW) College of Technology, was recognized by the National Security Agency (NSA) for his contributions in authoring curriculum as part of the agency's National Cybersecurity Curriculum Program.
Dr. Tu's contributions further demonstrate Purdue Northwest's strength in cybersecurity and cyber defense education.
Tu, a recognized expert in cybersecurity, created five units along with 55 other undergraduate course modules as part of NSA grants to universities intended to build courses and modules in highly needed cybersecurity areas. PNW was one of 54 universities receiving an award in 2017.
"All curriculum has undergone a strenuous multi-faceted review before being published," said Maureen D. Turney, program director of the National Cybersecurity Curriculum Program. "We congratulate Dr. Tu and appreciate the institutional support provided to him for his hard work in developing this curriculum."
Purdue Northwest's Bachelor of Science in Computer Information Technology is accredited by the Computing Accreditation Commission of ABET. The program is hosted in a National Center of Academic Excellence in Cyber Defense Education (CAE-CDE) designated jointly by the U.S. Department of Homeland Security and the National Security Agency, which signifies the program meets the national standard for cyber defense education.