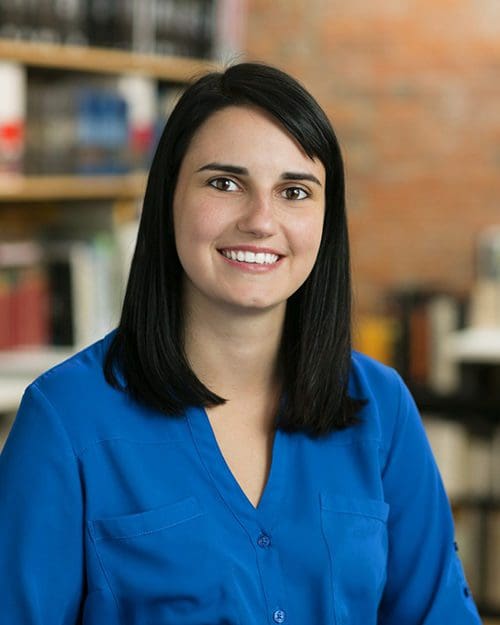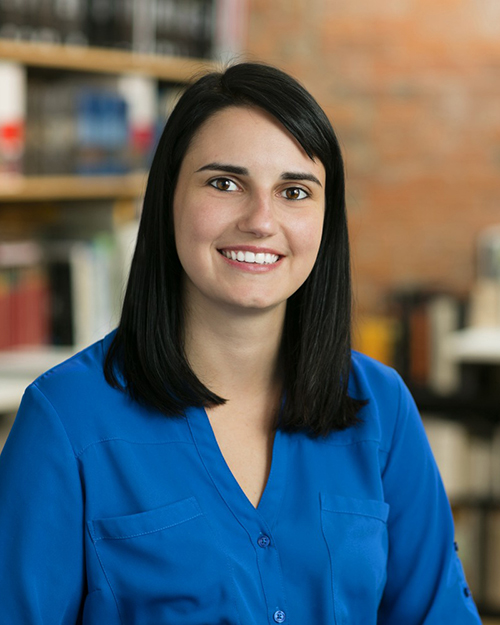 Emily Larson
The School of Engineering is #PNWEngineeringProud of Emily Larson. She is a 2011 BS in Civil Engineering graduate and a structural engineer at Burns and McDonnell.
April 13, 2020
Hometown: St. John, IN
High School: Lake Central High School, Class of 2007
PNW degree: Bachelor of Science in Civil Engineering, May 2011
Why did you choose your field of study?
I chose to be an engineer because I'm interested in why things are the way they are in the world around us. Engineering feels like a great intersection of science and art – thinking of all the possible arrangements and possibilities of how things fit together is how I can be creative, while using logic and math to understand an arrangement's feasibility.
Engineering is dynamic; tools and technology change the way things are done and being able to adapt to these changes is interesting and exciting. I get to be a part of a project as it goes through stages of conception to completion – including initial design in an office using codes and math, to seeing it modeled and analyzed on the computer, to producing design drawings and specifications, to fabrication and installation, and finally, commissioning.
Why did you choose PNW?
I had several opportunities to visit the campus before deciding to attend. I felt personally connected every time I came to the Hammond campus, from taking campus tours with current students in other majors, attending events for engineers and women, and getting to meet the faculty and administration. Nearly all of the people I came into contact with gave me the feeling they were working not out of their own interests, but genuinely were working hard and wanting to make me feel welcome.
I'm happy that my relationship with PNW has continued to this day, which I've been able to return and reconnect with the faculty and students on several occasions.
What was your most rewarding academic experience at PNW?
My most rewarding experience at PNW was being a part of the Concrete Canoe team. The experience of designing, problem solving, building, and ultimately participating in the competition over the course of a year was so rewarding.
During this time, I felt supported by the other engineering students and faculty who took part to help us build the canoe and compete with it. I'll never forget the excitement of getting the canoe into the water for the first time and all of the screams from the students, teachers, and families on the sidelines as we raced it.
Any specific classroom projects/learning experiences that were beneficial to you?
In addition to being a part of the Concrete Canoe team, I gained a lot from participating in the Interns for Indiana program. It was gratifying to be lined up with an engineering firm nearby which I could contribute on their projects.
Also, I had the unique opportunity to be a part of the first class at the Hammond Campus to graduate in the BS Civil Engineering program. We worked close with the faculty members to meet all of the nationally set criteria to nationally accredit the program.
PNW activities/organizations/teams:
American Society of Civil Engineers student chapter
Concrete Canoe team
Intramural sports – volleyball, beanbag tournament
Faculty and/or staff members who helped you along your journey at PNW:
Chandramouli Viswanathan, Ph.D., P.E., who continuously went beyond expectations to set all of his students up for the future.
Bill Baginski who keeps my spirit alive at PNW with invites to speak and participate in alumni and campus events.
Awards received at PNW:
Best and Brightest scholarship recipient
National Science Foundation scholarship recipient
attained Dean's List and Semester Honors
recognized as an Outstanding Student in the School of Engineering, Mathematics, and Science
Where are you currently working?
I currently work as a structural engineer for Burns and McDonnell. I work in the heavy industry and utility sectors on teams with other types of engineers; my role on the team is to design structures and foundations.
PNW prepared me for this work by building my technical background (two of my class textbooks are at my desk now, which I often consult and share with others) and offering the experiential learning opportunities that got me planning, scheduling, budgeting, designing, constructing, with adherence to codes and standards.