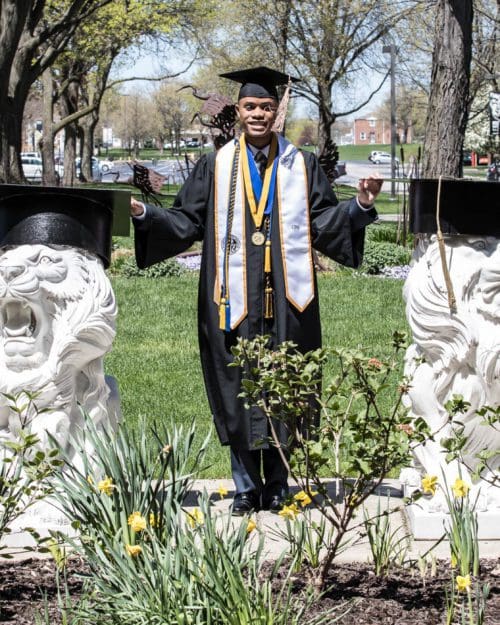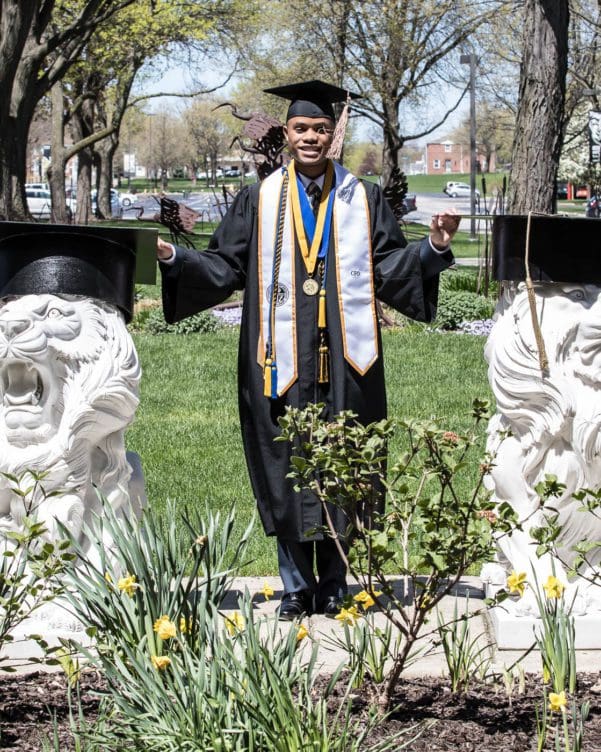 Eric Taylor
Eric Taylor had his share of struggles when he decided to triple major at PNW, but through his grit and determination, he Powered Onward and achieved his goals!
November 22, 2019
From PNW to law school, alumnus Eric Taylor pursues ambitious agenda.
Eric Taylor is driven to excel, to overcome obstacles, and to serve. He found support for his ambitions and a path to his career at Purdue University Northwest (PNW).
When Taylor, a spring 2019 graduate of PNW's College of Business, began his college search while in high school, he wanted to become part of a close-knit community that would foster an environment where he could learn, excel, and challenge himself. Add in an AACSB-accredited business program as well as small class sizes and Taylor found his choice in Purdue Northwest.
He was impressed while attending a campus tour led by a business major during an open house.
"I asked about the Accounting program and he was very candid and friendly, and I realized it was definitely where I wanted to go," Taylor said. "It didn't seem like a place where people got lost."
Academics and Involvement
Taylor set an ambitious agenda for himself with a triple major in Accounting, Finance, and Business Analytics. As community and public service were important to Taylor, he became involved in PNW's Student Government Association, serving as chief financial officer. He was nominated to be chairperson of the Academic Affairs Committee and chairperson of the Student Senate Budget Committee, a decision he credits with his recent endeavor of applying to law school.
"Being a part of student government gave me a sense of public service and that your actions have a benefit to other people," Taylor said. "It helped me in my decision to apply to law school because student government really taught me that in any institution there are laws and regulations you need to be aware of and understand to empower yourself. It was a great learning experience."
Always eager for new challenges, Taylor eventually decided to run for student government president. It was a transformational experience.
"The election itself, even though I didn't win, gave me a chance to be more extroverted and talk to people and learn about them and about myself and why I wanted to be a leader. It challenges your own ideas and why you're running and shows you what to do and not do," he said.
Faculty Mentoring
Taylor credits many of his professors for his success in balancing his triple major at PNW, in particular Pat Obi, professor of Finance, as an encouraging voice in his life on campus.
"He (Obi) was very good at giving me academic advice as well as how to improve as a person and leader. When I had my biggest setbacks he would sit down and help me with improving myself going forward, not just academically, but as a personal mentor," Taylor said. "He taught me the importance of being humble and more connected to others around you … and that trust is a building block to leadership. Even today, I incorporate the wisdom he gave me in different ways in my professional and personal life."
Career directions
Taylor is currently working as a performance analyst at Marquette Associates, a Chicago-based institutional investment consulting firm. Next year he will attend the Georgetown University Law Center in Washington, D.C., which he chose after also being accepted into the Notre Dame Law School.
"I want to be involved in some area of the legal industry, whether business or public interest, where there is a lot of capacity to do good for society," Taylor said.
Taylor also has some words of advice for those entering the world of higher education and what it takes to persist through the challenges that college life can present.
"Develop an attitude of resilience through your academic career. You will face a lot of challenges," Taylor said. "Things aren't always going to be perfect, but even the greatest leaders faced problems and they shaped them into the person they would become. A lot of days at work I think I didn't master a technique or concept or could have said something better, but recognizing you have room to grow is a great stepping stone to becoming a better person."