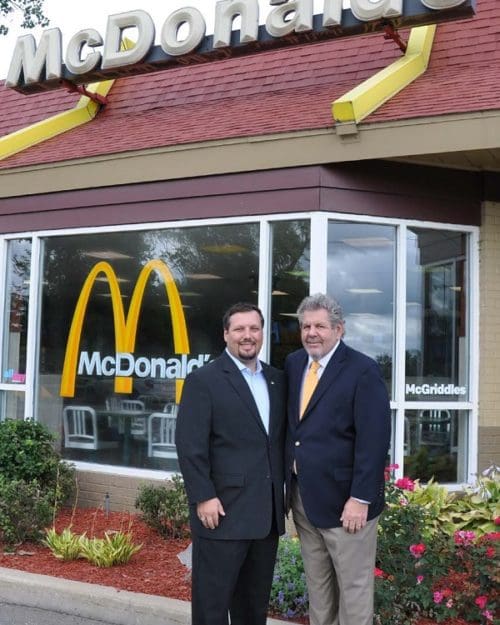 Growing the Next Generation
Growing the Next Generation
January 27, 2020
"You will feel the energy and see the potential and then you will find yourself, like me, excited to be a part of the great things happening at PNW." – Sam Lubeznik
Glenn and Sam Lubeznik take their passion for making a difference in their community from their business to the Purdue Northwest campuses.
The Lubezniks, a dynamic father-son duo from Michigan City, Ind., own and operate six McDonald's facilities in the La Porte County area of northwest Indiana. They employ approximately 450 people and serve 10,000 meals to customers daily.
Compelled by the McDonald's model to grow and support their employees, Glenn and Sam encourage leadership through dedication and hard work. They have provided higher education tuition assistance for more than a dozen of their employees and are proud to note more than 80 percent of their restaurants' leadership have moved up the ranks from crew positions.
Driven to care for their employees and customers, it is no surprise that these two are passionate about supporting PNW and the community.
Creating Future Leaders
The Northwest Indiana McDonald's Operators (NIMO) is a group of 16 northwest Indiana restaurant owner/ operators with more than 50 facilities throughout Lake, Porter, La Porte, Jasper and Newton counties. Together they manage the marketing, community relations, educational and philanthropic programs throughout the region, and are responsible for implementing and maintaining consistency at every northwest Indiana restaurant.
In collaboration with NIMO, Sam and Glenn have been able to make an even greater impact in the community. In 2015, the group began the annual Future Leaders Scholarship for PNW students. These scholarships are given to students who demonstrate qualities of academic excellence, leadership and dedication to community service initiatives.
McDonald's reinforces the culture of caring about its customers and community through actions, Sam noted. "This opportunity gave my fellow operators and us a chance to continue the tradition of making a difference in the lives of the people we serve."
"If you're on the fence come and see the facilities, meet the faculty, go to the cafeteria and talk with the students – you will not be disappointed. You will feel the energy and see the potential and then you will find yourself, like me, excited to be a part of the great things happening at PNW."
In 2017, continuing their generous legacy, Glenn and Sam contributed cogeneration equipment from one of their restaurants to the university for the study of thermal efficiency in 2017. The energy generation system was designed to help reduce energy costs, provide reliable energy back-up of critical business functions and substantially lower the carbon footprint at the restaurant.
"Cogeneration units like this one allow us to use fossil energy in a much more efficient manner than conventional systems, making them attractive both from an economical as well as environmental perspective," said Dietmar Rempfer, director of the PNW School of Engineering.
The PNW School of Engineering is working to relocate and house the machinery at the university to give students an invaluable opportunity for real world applications and training with a unit in alternative energy, heat transfer and thermofluids.
"I believe strongly in this technology and its potential to change the way we address our energy needs. I would love to see this equipment inspire the next generation of engineering students to make those changes," Sam said.