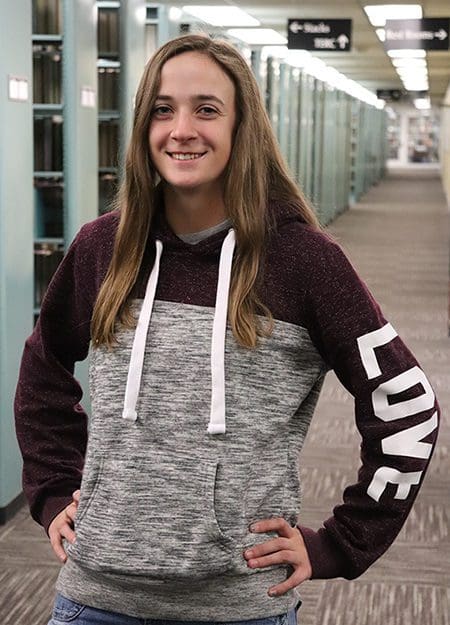 Student carries mother's passion
Purdue Northwest student engineer carries mother's passion
November 2, 2018
Purdue University Northwest (PNW) student Sydney Valiska was drawn to the field of civil engineering from a very young age.
The New Lenox, Illinois native was awarded the Enbridge Future Leaders Scholarship, a well-deserved recognition for the active second-year student. Along with being an engineering scholar at PNW, Sydney is involved in the American Society of Civil Engineers and the Society of Women Engineers. She also just finished her second season as a member of the Purdue Northwest NCAA Division II Women's Golf team.
"I was never a big fan of playing dress up or having tea parties, but instead loved building with Legos and doing puzzles."
The love for her mother pointed Sydney toward top-tier engineering schools within the Purdue University system; her golfing talent influenced her choice to attend Purdue Northwest.
"My high school golf coach at New Lenox introduced me to PNW. My father also said my mother attended Purdue's main campus in West Lafayette," she said. "Purdue Northwest was very welcoming and I knew I would get a great degree."
After a preview visit where Sydney talked with directors in the School of Engineering, faculty advisors and athletics coaches, she felt at home at Purdue Northwest and now lives in residential housing at PNW's Hammond Campus.
As a PNW School of Engineering student, Sydney has already applied her skills to such projects as designing staircases and bridges. "I like how all the professors are willing to share their time here," she said.
Resilient and optimistic
Being a civil engineer specializing in either transportation or environmental engineering is Sydney's dream. Her scholarship, presented by global energy infrastructure leader Enbridge, Inc., was not only relevant for Sydney, it was also timely.
Sydney's father passed away in September after a year-long battle with brain cancer. Her family support includes her step-mother and two younger siblings—her brother, a first-year student at the University of Wisconsin-Eau Clair, and her half-sister who is a high school sophomore.
Losing both parents so early in life would understandably challenge anyone, but Sydney is as resilient as the bridges she plans to build in the future.
"Earning this scholarship is also building my self-esteem because it signifies the confidence others are instilling in me to keep looking forward with the same determination and optimistic outlook so that one day I can fulfill my dream of becoming a successful civil engineer," she said.