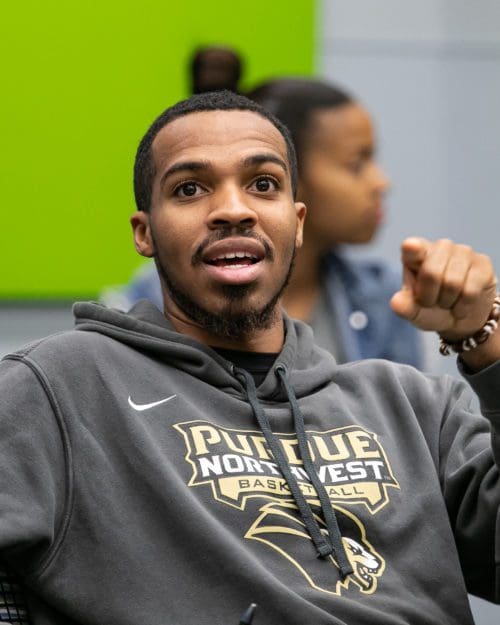 Timothy Gilmore
Purdue Northwest is proud of Tim and all our Spring 2020 graduate candidates as they Power Onward toward a bright future. We celebrate your grit, determination and drive!
May 21, 2020
Hometown: Palmdale, California
PNW degree: Bachelor of Science in Psychology, May 2020.
Why did you choose PNW?
I was recruited to play basketball and I wanted to be a part of changing the culture.
Why did you choose this major?
I think everyone should be taught about emotional intelligence and mindfulness in school. These are things I believe go beyond one's career goals and will enhance the quality of their life.
Do you have a favorite faculty member?
Coach Boomer Roberts has been a mentor for me here at PNW. He has taught me what it means to be a great father, husband, and a lover of people beyond everything he's shown me in the course.
What is your most memorable experience on campus?
My most memorable moment was going on team retreats for team building. A pastor for this church opened up his home for us and we stayed there for the weekend and had a great time.
What would you tell prospective PNW students?
This is a place where you build relationships that will last the rest of your life. It will only be what you make it.