Antonio Rodriguez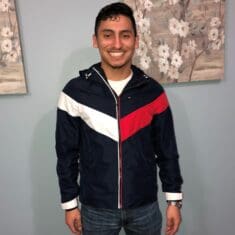 Introduction
My name is Antonio Rodriguez and I'm currently a senior with an expected graduation date of May 2021. I'm majoring in Biological Sciences with a concentration in Microbiology and Immunology.
Some fun facts about me are that I'm the oldest in my family and I really love microbiology and learning about bacteria and other microorganisms! Some hobbies include watching or playing soccer, going to the gym and spending time with my family.
I'm currently an SI Leader for Biology 21300 – Anatomy and Physiology I, which is taught by Hassan Naji. I believe Supplemental Instruction (SI) is valuable because it helps introduce to students a broader way of studying a subject. It involves non-lecture and becomes valuable because you get a better grasp on difficulties with the subject, you can work with groups to build a foundation on certain topics and learn techniques or different approaches that will help you better understand what you're learning in the class.