ChiroClub
The ChiroClub is here to provide information about the field of chiropractic and to serve as a support system and social outlet for those who have decided upon chiropractic as a career. We will provide members with information about chiropractic colleges, about chiropractic as a healthcare profession and about what the requirements are to become a doctor of chiropractic.
We are also committed to providing information to those who are interested in chiropractic as an alternative way of health and healing.
We serve PNW's Westville and Hammond campuses.
Contact Us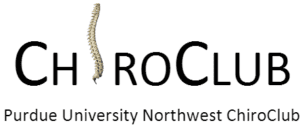 Advisor: Scott Simerlein