Student Event Planning
Interested in planning an event? We're happy to help! See key steps to a successful event.
Please note: Student Life strongly recommends that all student organization activities take place virtually this semester due to COVID-19. Any meetings or events which do take place must adhere to all PNW COVID-19 Policies, and the additional policies for Student Organizations, listed below:
All activities of any kind should be conducted virtually wherever possible. In-person activities must observe all campus safety protocols and room capacity limits. Activity participants are expected to use available cleaning supplies to clean and disinfect rooms after use.
Tables will not be permitted inside buildings, but orgs can request a table in designated areas outside on either campus.
Orgs may not invite or sponsor visitors on campus for Fall semester 2020.
On-campus in-person events must adhere to PNW campus safety protocols and room capacity limits. Activities with a likely attendance of 30 or more must be approved in advance by the AVCSA.
All off-campus activities sponsored by recognized orgs must adhere to PNW campus safety protocols in addition to State and local mandates. All off-campus activities with a likely attendance of 30 or more, or any making use of an indoor facility, must be approved in advance by the AVCSA.
All student organization travel is currently prohibited, and until a timeline is issued for this to be lifted, none may currently be planned.
Failure to follow these guidelines may result in sanctions, including loss of funding or loss of PNW recognition.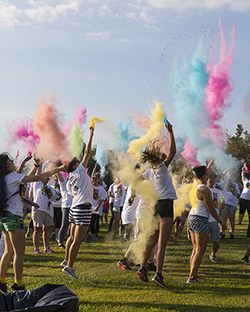 Before you begin, be sure you give yourself enough lead time and communicate your plans to the a staff member from the Office of Student Life. We can help to smooth your planning process smooth, make sure you follow university regulations and offer advice to make your event a success.
Submit Your Request
One of our student organization request forms must be submitted at least two weeks prior to the meeting, event, or other activity your organization would like to do. Below you will find several request forms, please use the form which best matches what your organization would like to do.
Meeting Request
Meant for small, regular meetings of organizations to accomplish internal business.
Event Request
Meant for large, one-time events held by organizations, which may feature members and nonmembers.
Travel Request
Meant for student organization requests to travel away from the immediate Hammond/Michigan City area.
Fundraising Request
Meant for fundraisers, whether at a table or in a room/event space on either campus.
SUBMIT YOUR FUNDRAISING REQUEST
Student Organization Funds
Use this to access Student Organization funds. Organization information must be up to date to have access.
SUBMIT YOUR COOL ACCOUNT REQUEST
SSF Request
Meant for organizations with awarded SSF funding to request to use their funds.
Food Policies
Contracts
Are you scheduling on-campus services from any outside vendors (for example, a DJ)? Please contact the Student Organization and Leadership Coordinator.
Waivers
A waiver of liability should be completed for any recreational programs that are voluntary in nature, or other programs that are different than the typical educational nature of the university. Completed waivers need to be submitted to the Office of Student Life.