Vaccination Clinic Next Week!
November 12, 2021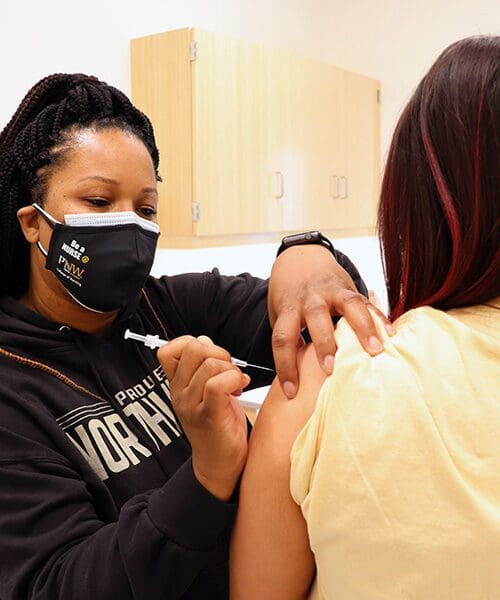 COVID-19 Vaccine Clinics: No Appointments Necessary
Come to the Nils K. Nelson Bioscience Innovation Building on Nov. 16 to receive your second dose or a booster of the Pfizer COVID-19 vaccine. (Boosters are available for those who have been vaccinated for six months with Pfizer or Moderna or vaccinated for two months with Johnson and Johnson).
Boosters are strongly recommended for those who are 65 years and older, 18 and older who have underlying medical conditions, or 18 and older who work and live in high-risk settings including healthcare workers, education staff and students living in communal housing.
Those interested in a first dose are welcome, but the second dose in three weeks would need to be received at a different location, as this is our last vaccine clinic for the semester.
Vaccine Location
Nils K. Nelson Bioscience Innovation Building (First Floor)
Vaccine Time
Tuesday, November 16
8 a.m. to 4 p.m.
---
Free COVID-19 Testing
Hammond Campus
Mondays, Tuesdays, Wednesdays (newly added) and Thursdays
9 a.m. to 3 p.m. in Classroom Office Building (CLO), Room 112B
Westville Campus
Wednesdays and Thursdays
9 a.m. to 3 p.m. in Library Student Faculty Building (LSF), Room 111
Visit the Free COVID Testing webpage for more information.
---
VIP Winners
For a complete list of the winners, visit the Vaccine Incentive Program webpage. Students, be sure to check your email to see if you have been selected. Each week's winners are posted as soon as information and status are confirmed. There is still time to enter!
---
Concerns Survey
A feedback survey is available on the PNW website and can be used to ask any and all COVID-related questions. For example, you can use the survey for:
Asking a COVID-19 related question
Expressing a concern about a COVID-19 protocol not being followed on campus
Providing feedback about a COVID-19 response
Alerting the task force about the need for additional signage concerning protocols
Communicating you have been exposed or possibly exposed to COVID-19
See guidance on how to report a positive COVID-19 test result.