Youth Entrepreneurs Making Their Mark on Indiana: Innovate WithIN Regional Winners Announced
April 23, 2021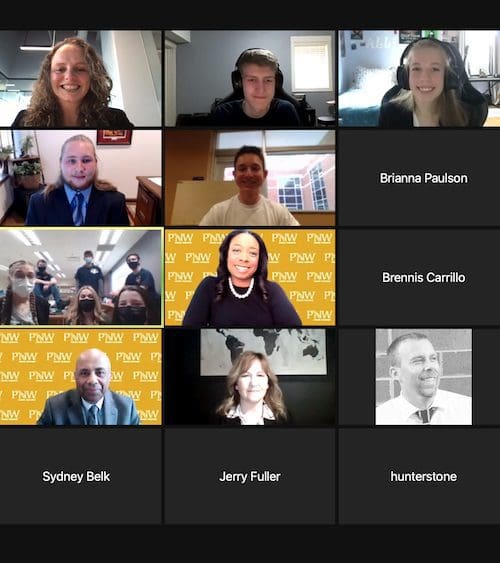 Innovate WithIN™, a statewide high school pitch competition is highlighting the youngest innovators around the state. The competition, which offers up to $100,000 in cash prizes, mentorship opportunities and in-state college tuition assistance, has added over $19 Million in potential scholarships from eleven Indiana schools to the 2021 prize package.
Don Wettrick said, "Over the past four years of the Innovate WithIN Pitch Competition, I have seen the community of Northwest Indiana come together to go above and beyond to provide resources to support their students to become youth innovators. We are so grateful for their continued support."
More than 800 students from 128 high schools, representing 68 of Indiana's 92 counties participated in Round 1 of the pitch competition. The Northwest Indiana, Region 6 finals were held virtually by Purdue University Northwest and the Society of Innovators at Purdue Northwest on Tuesday, April 20.
Sheila Matias, executive director of the Leadership Institute and Society of Innovators at Purdue Northwest stated, "What a great event for Northwest Indiana! Smart, innovative, polished and analytical are words that come to mind as I listened to these interesting pitches. Our regional high school students were truly poised and professional in their presentations. As they answered questions from the team of judges, you could hear their thought processes and how well-prepared they were, having really done a deep-dive in research and design of their project concept. With these young people as our future innovators and leaders, we are in good hands for the future!"
Participants families, schools, and others were able to watch the livestream as each made their pitch for the Regional prize of $1,000 and secured their spot in the State competition to be held at 2 p.m. June 19 at the JW Marriott in Indianapolis.
Prior to the state competition each of the regional winners from around the state will be participating in a "deep-dive," five-week bootcamp intended to help them refine or pivot their ideas to give them the greatest potential for success at the state competition.
The students will be competing to win $10,000 to continue building their business, $10,000 for future education in a 529 plan and $5,000 toward their entrepreneurial, immersion trip experience.
The winner of the Northwest Indiana region is:
Allison Bradford
School: Hobart High School
Company: Cramps Revamped
Description: Through stylish and versatile leggings, Ovar-ease is the first pair of leggings designed to eliminate painful cramps using a comfortable high-rise compression waistband with heat technology.
If you were unable to watch the regional competition, it can be viewed here.
Innovate WithIN™ is a program of the STARTedUP Foundation (SEUF) in partnership with the Indiana Economic Development Corporation (IEDC). In partnership with the IEDC, STARTedUP will create an immersive student accelerator program for the Innovate WithIN™ state finalists and other student entrepreneurs around the country, helping them develop and execute their ideas, as well as, providing access to the organization's network of mentors and advisers.
Additional Participants
School
Hobart High School
Company
Stress Less Solutions
Description
Tracklet bracelet device to help consumers track the progress of everyday short term tasks to stay organized, enhance time management skills, and simplify the to-do list
School
Hobart High School
Company
Station 0
Description
Eliminating the dangers of the firefighting profession through autonomous drone usage to relay up to date information to the station preparing them before the first responders even get to the scene.
School
Valparaiso High School
Company
Solar Fun in The Sun
Description
Easily portable charging station running off of solar energy to foldable solar panels that will charge your cell phone.
School
Hobart High School
Company
My Gov
Description
To engage and encourage youth to participate in local politics through a nonpartisan website.
School
Hobart High School
Company
Cleat Covers
Description
Cleat covers prolongs the lifespan of your cleats through an attachable base to the bottom of your cleats, making it easy to take on and off when off the field.
School
Valparaiso High School
Company
Newfangled Computers
Description
Newfangled Computers will help accelerate the computer repair industry through a straightforward, affordable technical support to help computers last longer, and lower repair costs, showing consumers that their old computer can perform just as well with only minor repairs.
School
Homeschool/Hobart High School
Company
MagTech Work Pants
Description
Using a lightweight and compact design, magnetic pants will bring ease to carrying and working with tools through a magnetic strip on pant legs, increasing safety and mobility.
School
Valparaiso High School
Company
Outpost 193 Processing
Description
Supply animal processing to local communities giving consumers access to good clean food that is raised and harvested locally.
School
Hobart High School
Company
ARS Designs
Description
The Carefree tank will give those who struggle to care for themselves the opportunity to have a fish tank that takes care of itself.