Purdue University Northwest recognized among top education programs for literacy preparation in teaching
June 13, 2023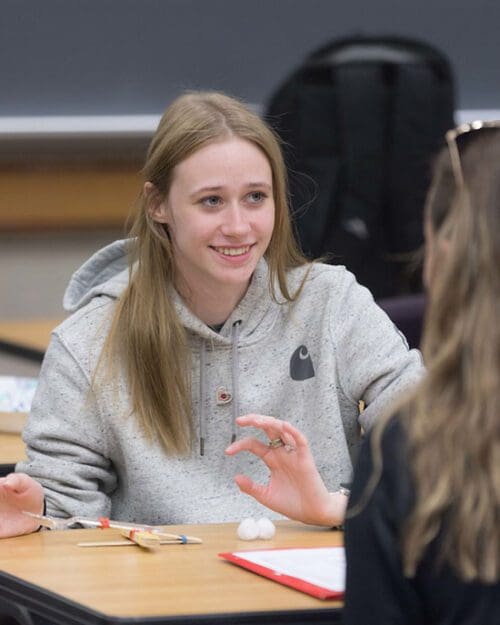 Purdue University Northwest's (PNW) undergraduate program in Elementary Education received recognition from the National Council on Teacher Quality (NCTQ) for its rigorous preparation of future educators in how to teach reading.
PNW earned an "A" grade in NCTQ's new report, "Teacher Prep Review: Strengthening Elementary Reading Instruction." PNW was among 23% of higher education institutions to earn the grade for meeting standards set by literacy experts for most effective teaching methods of reading instruction, which is referred to as the "science of reading" by educators.
"Earning an 'A' grade in NCTQ's report is a testament to PNW's commitment to excellence in teacher preparation and their alignment with the best practices in reading instruction," said Mary Ann Cahill, director of the School of Education and Counseling at PNW and professor of Literacy. "This recognition demonstrates the abilities of our faculty, and highlights the institution's dedication to producing highly skilled educators who can make a positive impact on their students' literacy development."
"By earning this grade, PNW has demonstrated a commitment to providing aspiring teachers with the knowledge and skills necessary to effectively teach reading to elementary students. This recognition reflects the institution's dedication to staying informed about current research and best practices in the field of literacy education."
The "science of reading" encompasses a range of evidence-based strategies and instructional approaches that have been proven to be effective in teaching children how to read. It emphasizes phonemic awareness, phonics instruction, vocabulary development, comprehension strategies, and fluency practice. PNW's teacher preparation program in the School of Education and Counseling prioritizes these components, stays informed on current research and implements best practices in the field of literacy education.
National data shows that more than one-third of fourth grade students — over 1.3 million children — cannot read at a basic level. To evaluate the quality of preparation being provided, NCTQ analyzed syllabi, including lecture schedules and topics, background reading materials, class assessments, assignments, and opportunities to practice instruction in required literacy courses for undergraduate elementary teacher candidates at PNW. To earn an "A," programs needed to meet NCTQ's targets for coverage of the five core components of scientifically-based reading instruction: phonemic awareness, phonics, fluency, vocabulary and comprehension.
The new NCTQ analysis of teacher preparation programs' coverage of the science of reading was developed over the course of two years, involving teams of literacy experts, researchers, teacher preparation leaders and educators. NCTQ evaluated 693 traditional undergraduate and graduate programs across the U.S., including 18 in Indiana. Overall, just 112 programs earned an A and 48 earned an A+.