Hours & Admission Fees
Ready to visit the Purdue University Northwest Gabis Arboretum? See hours and admission fees.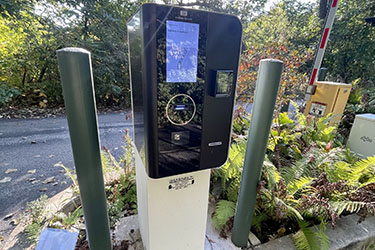 New Front Automated Gate Kiosk at Gabis Arboretum
A new automated gate at Gabis Arboretum is installed and ready for use. Beginning Monday, December 4, non-members will pay the $10 carload admission fee via credit card and members will scan their new membership card.
Hours
Daily 8 a.m. to Sunset CST
Member Early Access: Gabis Arboretum Members have access to the arboretum grounds beginning at sunrise from April to November only. Members should bring their membership card to present upon entry. Facilities will continue to open at 8 a.m.
The Railway Garden is open for viewing from May 1 to October 31 daily. However, model trains run on Friday through Sunday from 10 a.m. to 3 p.m. only.
The model trains cannot run in unfavorable weather conditions such as wind, rain, and extremely hot weather. Please call ahead to confirm (219) 462-0025.
Thanksgiving Break: November 23 and 24, 2023
Winter Recess: December 22, 2023 – January 2, 2024
Martin Luther King Jr. Day: January 15, 2024
Admission Fees
General admission fees may not include special event or educational program access. See individual event or program for details.
Admission to the Railway Garden is not included in the daily admission fee
$10 per non-member carload (includes cars, vans, RVs and motorcycles)
$25 per minibus (9 to 16 passengers)
$45 per tour bus or school bus (17+ passengers)
Admissions is free for carloads that contain:
The model trains run on Fridays, Saturdays, and Sundays May through October from 10 a.m. to 3 p.m.. If visiting the Railway Garden during this time, the admission fees are as follows:
Non-Members: $3 per person/children 5 & under free
Arboretum Members & PNW Students: Free
Groups of 10+: $2 per person (must be scheduled in advance by contacting gabisarboretum@pnw.edu

or 219-462-0025)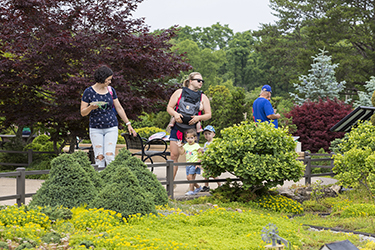 Group Visits and Field Trips
Take advantage of a variety of our outdoor learning spaces! Gabis field trips are available to schools, scouts, home-school groups, community organizations and more.
Your Fee Matters
Revenue from admission fees increases our ability to reach guests and provides the stability necessary to manage our plant collections for future generations.