2020 Innovators Awards Inductee Profile: Centier Bank
February 5, 2021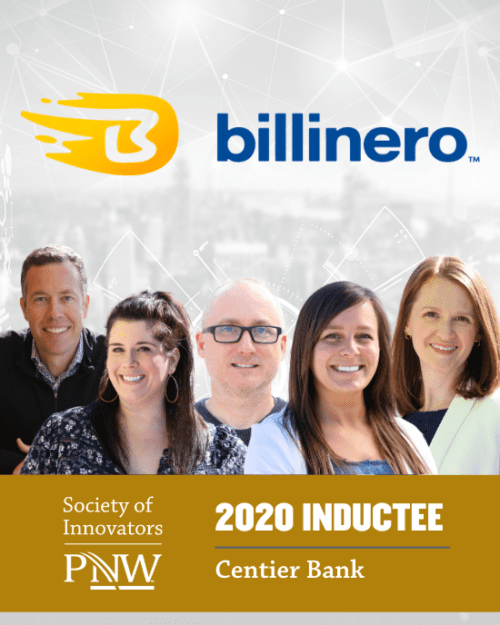 In an effort to remove financial stress and incentive individuals to save their own money, a group of Centier Bank associates came together in 2017 with the idea of a prize-linked savings account that could grow the bank's deposits outside of Indiana without disrupting its current infrastructure. Billinero was born.
A mobile-first savings account with a game-like approach, Billinero offers players the opportunity to win cash with zero risk. When users make a qualifying deposit of at least $25, they earn a chance to win a $1,000 prize. "Money deposited. Money saved." Billinero also brought the 125-year-old community bank in the world of digital, app-based banking. Since its launch in August 2019, Centier has given away over $50,000 in cash prizes to Billinero winners.
Centier partnered with a core provider, Nymbus, to develop and host the app. The legalities, rules, and implementation were arduous. Launching a startup within an established organization was – for some – almost like a second job. Associates from Technology, Marketing, Retail, and Senior Leadership came together to launch Billinero and continue to make product enhancements, grow the user base, and spread the word about the prize-linked savings app.
What does it mean to have Centier Bank's work recognized by the Society of Innovators?
Don Baker – It really means a lot to all of us and validates the hard work, teamwork, and the collaborative effort that we had internally.
Jessica Cantarelli – Centier Bank is synonymous with Northwest Indiana. We've been such a long standing institution through 125 years of family-owned business. Recognition for Billinero is one way we're celebrating the milestone of looking toward the future of banking and looking toward the future of the region.
What is one of your favorite stories from Billinero's winners?
Chris Campbell – They're all great stories, but one that I really enjoyed was a couple that had postponed their honeymoon and wedding celebration because they didn't have the money necessary. As one of our first $10,000 winners, they were able to celebrate their marriage and go on a trip they wouldn't have been able to take otherwise.
What is something you wish more people knew about Northwest Indiana?
Marci Arroyo – Northwest Indiana is a really tight knit community. People really place a value on the businesses, the family businesses and the independent businesses that exist here.
Susan Griffin – Northwest Indiana is built upon really great businesses and community minded individuals. And all of those individuals have brought so much of their time and talents into innovation and into creating new ideas, which leads to growth and expansion for our region. Centier is just one of those great businesses and we're really proud of that.
What does innovation mean to you?
Don Baker – For me, innovation is always rooted in doing something that helps others in their lives. It is service-oriented. When you further expand innovation, there's an entrepreneurial spirit about it. Innovation is a combination of that servant heart entrepreneurship and just a willingness to go out and take a risk, do it in a controlled way, and try to bring new things to market.
Jessica Cantarelli – For me, innovation means courage and passion. Courage to take a leap into the unknown and not being afraid to fall on your face. If it doesn't work, you get right back up and learn from what you're trying. And then just the passion to keep charging forward.
Chris Campbell – Innovation is solving a problem. With so many Americans out there that we've looked at, they didn't have the money in their accounts. Whether they blew a tire on a car or the refrigerator went out, how do we incentivize them to save and put them in a better financial position. So innovation is solving a problem creating a utility in which they can do it, and be frictionless and seamless in users' day-to-day lives.
Centier Bank was a 2020 team inductee into the Society of Innovators at Purdue Northwest. Team members include Chris Campbell, Senior Partner; Susan Griffin, Retail Marketing Manager; Jessica Cantarelli, Public Relations & Communications Manager; Don Baker, CIO and Senior Partner; and Marci Arroyo, Technical Project Manager. A full list of 2020 inductees can be found here.